Kelly Luce has won the 2023 Wachtmeister Award — a prestigious fellowship awarded biennially by the Virginia Center for the Creative Arts (VCCA). The prize acknowledges the vital role of the arts in our world, the importance of artists who exemplify excellence in their field, and the necessity of time and space for the creative phase of all artistic work.
This 2023 award was open to established fiction writers demonstrating substantial achievement in their field over at least 15 years. The VCCA Fellows Council's Wachtmeister Committee, led by Clifford Garstang, invited three acclaimed fiction writers to serve as jurors for this year's prize.
The panel of judges — Sadeqa Johnson, Rebecca Makkai, and David Mura — reviewed submissions from a competitive field of international applicants, ultimately selecting Luce as the winner. "Kelly Luce's writing is clear, surprising, disconcerting, and gorgeous," shared juror Rebecca Makkai. "We can't wait to see what she does next."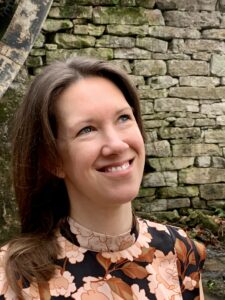 As the 2023 Wachtmeister Award winner, Luce will receive a month-long residency at Mt. San Angelo, home to VCCA's artist residency program in the foothills of Virginia's Blue Ridge Mountains. She will also receive a $1,000 honorarium. VCCA residencies provide artists with private lodging, a private studio, and three meals a day in a community of cross-disciplinary artists. In residence at VCCA, Luce will have uninterrupted time and space to focus on her creative work.
"I'm grateful for this award, which comes at a critical time for me both personally and professionally," says Luce. "During my residency at VCCA, I will work on my third book — a novel called Eden." Eden is the story of a Franciscan astronomer at the Vatican Observatory and his unlikely pen pal, an incarcerated woman in California. The novel explores the American prison system, the devastating effects of climate change on California's wildfire season, and the relationship between faith and science.
Photo by Alex Jaynes.
Kelly Luce is the author of the story collection Three Scenarios in Which Hana Sasaki Grows a Tail, winner of Foreword Reviews' Editor's Choice Prize for Fiction, and the novel Pull Me Under, a Book of the Month selection and one of Elle's Best Books of 2016. Her work has been recognized by fellowships from the Radcliffe Institute for Advanced Study, the Michener Center for Writers, MacDowell, Yaddo, the Tennessee Arts Commission, Jentel Arts, and the Ucross Foundation. She serves as editor-in-chief of The Commuter literary magazine at Electric Literature.
Endowed by VCCA Board member and former VCCA Board President Linda Wachtmeister and administered by the VCCA Fellows Council, the Wachtmeister Award is presented biennially on a rotating basis within disciplines to a prominent writer, visual artist or composer whose significant achievement in the arts is widely recognized.
Previous writers to receive the Wachtmeister Award include nonfiction writer Emily Rapp Black (2017), poet Debra Marquart (2013), playwright Kia Corthron (2008) and fiction writer Ha Jin (2004). The award has also gone to visual artists M. Florine Démosthène (2021), Anne Ferrer (2015), James McGarrell (2011) and Thomas Roma (2015), plus composers Robert Normandeau (2019) and Anna Weesner (2006). The 2025 award will be open to established composers who have not yet attended a residency at VCCA. 
---
The mission of the Virginia Center for the Creative Arts (VCCA) is to provide time and space for national and international writers, visual artists, and composers of talent and promise to bring forth their finest works, because the arts are vital, diversity is a strength, and creativity is essential. The artists who come to VCCA, whether emerging or established, are selected by peer review on the basis of the important or innovative work they are doing in their respective fields.
In residence, VCCA Fellows are provided with an individual studio, a private bedroom with private bath, and meals in a community of cross-disciplinary artists. Life at VCCA is free of many of the distractions we find in everyday life. Artists are granted solitary time to focus on their art, and are also part of a collaborative community of accomplished artists that provides insights, new ideas, and stimulating conversation. VCCA Fellows are free to work at their own pace in quiet, spacious, light-filled studios, just a short walk from their residence overlooking the beautiful Blue Ridge Mountains.