Each month of the academic year, VCCA partners with Sweet Briar College to host an evening salon on the Sweet Briar campus. Each salon features VCCA Fellows who share their creative work with the community. Events are free and open to the public.
Upcoming
VCCA Fellows Hollis Hammonds and Oswald Huỳnh will present their work on Wednesday, September 13, 2023, at 7:30 p.m. in the Pannell Art Gallery on Sweet Briar's campus.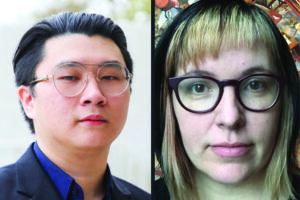 Hollis Hammonds is a multimedia artist whose work, built on memory and utilizing evidence from the public collective consciousness, investigates social issues ranging from economic disparity and state violence to environmental degradation and human-made disasters. Her dystopian drawings and found-object installations have been widely exhibited throughout the U.S. She is a Professor of Art and Chair of the Department of Visual Studies at St. Edward's University in Austin, Texas.
Oswald Huỳnh is a composer whose works navigate Vietnamese aesthetics and tradition, language and translation, and the relationship between heritage and identity. Huỳnh writes music that explores timbre and texture to create evocative soundscapes rooted in storytelling, culture, and memory. Huỳnh holds a BA from Lewis & Clark College and MM from the University of Missouri.