April 22, 2020
---
VCCA is as grateful as ever to the wide network of people who have helped sustain and advance VCCA over the course of our history. Every supporter has a story, and we aim to share more of those stories with the wider VCCA community.
---
Meet Linda Wachtmeister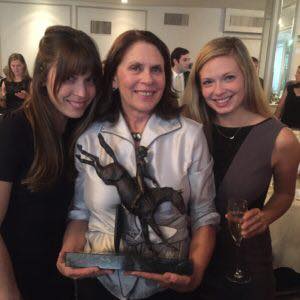 It's been nearly 30 years since visual artist, eventing horse owner, and philanthropist Linda Wachtmeister first joined VCCA as a board member in 1992. At that time, Linda was a mother with very young children, and she saw her involvement in VCCA as a way to stay connected to the arts. "This was a wonderful opportunity to feel like I still had my foot in the door – that I was still an artist," says Linda. "Even when I wasn't working, I felt involved." And involved she was. Since joining VCCA, Linda has made a lasting impact on the organization through her passion for the arts, her visionary leadership, and her generous spirit.
Linda was elected President of the VCCA Board in March 1997. "It's the only board I've ever been on," says Linda. "I must have talked too much, because they asked me to be the President . . . I did it for six years." In that time, Linda was instrumental in pursuing the opportunity to establish a VCCA residency program in France, and she hosted one of VCCA's most memorable events.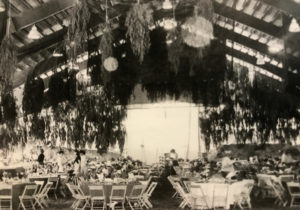 In 2002, VCCA's FoxTrot Ball was held at Linda's Plain Dealing Farm where she and her daughters Benita and Lucia now train and compete eventing horses—an interest Linda acquired during time spent living as an artist in Montana and has pursued at her home in Virginia ever since. For the event, Linda's large indoor riding arena was transformed into a magical venue for over 400 guests, complete with hundreds of pine trees hanging upside down from the ceiling and the floor covered with sod.
Linda was among the earliest supporters of establishing a permanent VCCA artist residency program abroad. In late 2002, VCCA received an intriguing flyer in the mail: a Colorado-based foundation was offering to give two buildings and acreage in Southwest France to an arts organization for an artist residency program. Linda says flying out to Denver to talk with the executive director of the Donnell-Kay Foundation is one of her most memorable VCCA moments. That trip ultimately led to VCCA's residency program at Le Moulin à Nef, where over 500 artists, writers, and composers have now pursued their creative work in Auvillar, France.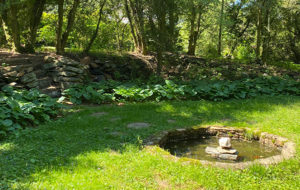 At the end of her term as President, the lovely sunken garden at Mt. San Angelo was christened "Linda's Garden" in commemoration of her tireless support of VCCA. The hidden garden dates from the 1930s and features a circular fish pond. It was dedicated in 2004.
Three Meaningful Fellowships
Linda's foundation, the L.E.A.W. Family Foundation benefits children, the environment, and the arts. Through the foundation, she is responsible for major gifts to VCCA. Linda sees her support of VCCA as bringing specific aspects of her life together. "These are things that I hold very dear," she says.
The L.E.A.W. Family Foundation supports three fully-funded fellowships that have provided VCCA residencies for 40 artists across disciplines.
Two of the three VCCA fellowships are connected to places with special meaning for Linda. In an effort to target underserved regions and to honor the time Linda spent living out West, the Montana Fellowship was initiated in 2006 to provide fully-funded one-month residencies at VCCA to selected writers, visual artists, and composers from the state of Montana.
Similarly, Linda helped establish a partnership between VCCA and another important organization in her life, the Maryland Institute College of Art (MICA). Linda says, "I have experienced wonderful things because of being a MICA artist and a VCCA Fellow. I wanted to share that with other people." The MICA Fellowships provide VCCA residencies to MICA faculty.
A third fellowship, this one fully endowed and bearing her name, takes on a broader meaning for Linda. Originally called the "VCCA Award for Excellence in the Arts," this award acknowledges the vital role of the arts in our world, the importance of artists who exemplify excellence in their field, and the necessity of time and space for the creative phase of all artistic work. Renamed the "Wachtmeister Award" in 2013, the award is administered by the VCCA Fellows Council and is presented on a rotating basis within disciplines to a prominent writer, visual artist or composer whose significant achievement in the arts is widely recognized.
Current Work and Current Times
As an artist, Linda has been a Fellow at VCCA five times since 1994. She is a painter and sculptor. "I think like a sculptor," she says. "I don't do landscapes, but right now I'm realizing [my work] is all about the earth," Linda explained when we asked what projects she's pursuing right now. "Every image I'm focusing on is a seed or a plant or a part of a plant. I'm taking away the color, and I just want to make them bigger and bigger and bigger."
During the COVID-19 pandemic, the earth is a focus for Linda beyond her art. She admits she's probably spending more time in her garden than in her studio these days. "The Earth is having a little bit of time to heal," she says. And she's hopeful that changes in the earth can stick. "A lot of people are thinking 'How will our culture change?' I hope we change for the good. Something really good has to come out of this horribleness."
In the face of the horribleness, Linda feels very lucky to be protected with her family on her farm. She's taking the opportunity to pause and is grateful that she's in a position to do so safely. "I'm home, and I'd been living a rat race sort of lifestyle. As an artist, being introverted, this is not a problem for me."
As far as how this current crisis will change VCCA, Linda says "The VCCA is a very special place – it always has been – but it will be even more so when this is all over. It's not something to take for granted ever again."