VCCA Fireplace Series 22
Featuring: Marilyn Banner & Ellen Prentiss Campbell
When: Thursday, May 20, 2021, at 7:30 p.m. ET
Where: Live on Facebook and YouTube
Composer and Fellows Council member Martin Hundley will host this virtual event featuring longtime friends Marilyn Banner and Ellen Prentiss Campbell. Banner, a visual artist, and Campbell, a writer, reconnected at a VCCA residency in 2009.
Campbell will be reading from her new novel, Frieda's Song, which will be published on May 25, 2021 (the cover image is from a painting by Banner)! The novel is inspired by renowned psychiatrist Frieda Fromm-Reichmann who fled Nazi Germany in 1935. "I worked on the novel at VCCA during two residencies, and had a break-through where I began to clearly hear Frieda's voice," says Campbell. "COVID-19 has impacted both the upcoming release of this new novel, and impacted the release a year ago in May of my collection of stories, Known By Heart."
Banner will be sharing a few images from early residencies at VCCA, as well as more recent work. Banner's early work was conceptual, and her media varied accordingly. "My 2003 residency was especially significant," says Banner. "I was introduced by another Fellow to the medium of encaustic, which became and remains my medium of choice. For 10 years my work has been based solely on land and nature. I will share several images of paintings inspired by close up views of sand, of stone, and most recently, of lichen."
Read more about our guests below.
---
Marilyn Banner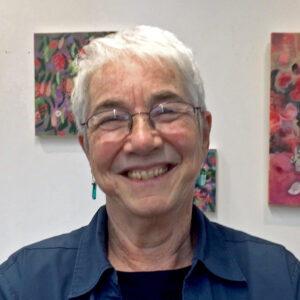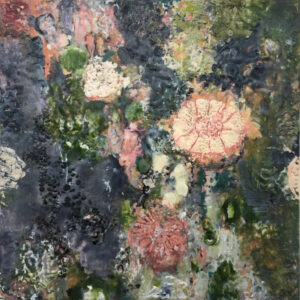 Marilyn Banner has worked in various media including painting, assemblage, and installation, to address wide-ranging content spanning death and darkness, earth and color, light and the spirit. For over a decade she has worked solely with encaustic paint, and is known for her visceral tactile sensibility and intimate abstract explorations of land and water.
Banner earned a BFA from Washington University in St. Louis, and a MSEd from Massachusetts College of Art, where she graduated with honors. Her work has been featured in Encaustic Art of the 20th Century (Ashley Rooney et al) and in several books by Ori Z. Soltes on mysticism and art. She has been the recipient of a Montgomery County Arts Council Grant and a Mid Atlantic Arts Foundation Creative Fellowship. Her works are held in the collections of the Embassy of Costa Rica, Hebrew Union College/NYC, the B'nai B'rith Klutznick Museum/DC, and Sheppard Pratt Hospital (Baltimore), as well as numerous private collections. She has enjoyed ten residencies at the Virginia Center for Creative Arts. Banner is a long-term member of Ceres Gallery in NYC. She lives and works in Takoma Park, Maryland, with her husband Carl Banner, with whom she produces a monthly performance series.
---
Ellen Prentiss Campbell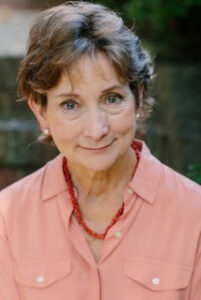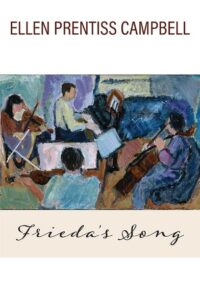 Ellen Prentiss Campbell's first collection of stories Contents Under Pressure was nominated for the National Book Award. Her debut novel The Bowl with Gold Seams received the Indy Excellence Award for Historical Fiction. Known By Heart: Collected Stories appeared in 2020. Her short fiction has appeared in numerous journals and been recognized by the Pushcart Press. A contributing editor for The Fiction Writers Review, she writes a regular column "Girl Writing" for The Washington Independent.
Ellen is the recipient of an MFA from The Bennington Writing Seminars and several fellowships from VCCA. For many years Ellen practiced psychotherapy. Her novel Frieda's Song will be published May 25, 2021; she worked on it at VCCA. Ellen and her husband live in Washington, D.C. She is at work on a novel.
---
About the Series
The VCCA Fireplace Series — in the spirit of the sharing of work that takes place among VCCA Fellows after dinner in front of the fireplace at Mt. San Angelo — features live virtual presentations by two Fellows each month. The focus of these events is on new work, particularly by artists with public events affected by the pandemic.
---
Watch Other Events in the VCCA Fireplace Series
As more events take place, we'll add the recordings to this YouTube playlist: