VCCA Fireplace Series 16
Featuring: Susan Jamison and Eric Weiner
When: Thursday, December 17, 2020, at 7:30 p.m. ET.
Where: Facebook Live and YouTube
Washington Post columnist and VCCA Board member Steven Petrow will host the December 17 event featuring visual artist Susan Jamison and writer Eric Weiner (The Socrates Express). Join them for an evening of artwork, reading, and conversation.
Read more about our guests and their work below.
---
---
Susan Jamison
Susan Jamison's feminine iconography spans several media, including painting, drawing, textile-based sculpture, and installation, all steeped in ritualistic and mythological associations. She is best known for her intricate egg tempera paintings, which present a mystery cult of florid women who foray into the wild and commune with animal spirit guides or familiars.
Jamison earned a BFA from James Madison University, and an MFA in painting from Rhode Island School of Design where she received the Award of Excellence. Her paintings have been featured in three volumes of New American Paintings. She was a recipient of the Lillian Orlowsky and William Freed Foundation Grant for painting in 2014. In 2020, she received the Virginia Museum of Fine Arts Visual Arts Relief Fellowship. Her works are held in the collections of the Indianapolis Museum of Art, The Mint Museum, The Eleanor D. Wilson Museum at Hollins University, Longwood Center for the Visual Arts, Try-Me.org, Capital One, POM Wonderful LLC, and numerous private collections.
She has enjoyed six residencies at the Virginia Center for the Creative Arts. Jamison lives and works in Roanoke, Virginia.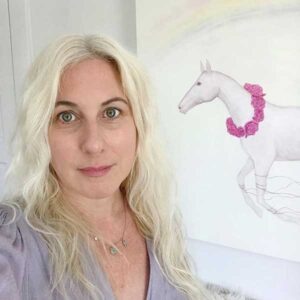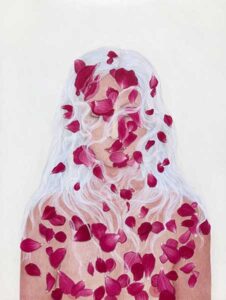 Sub Rosa, egg tempera on panel, 24″x18″, 2020
---
Eric Weiner
Eric Weiner is author of the New York Times bestsellers The Geography of Bliss and The Geography of Genius, as well as the critically acclaimed Man Seeks God and, his latest book, The Socrates Express: In Search of Life Lessons from Dead Philosophers, which NPR named one of the "Best Books of 2020."
Eric's books have been translated into more than 20 languages. For reasons he cannot fathom, he is especially popular in Bulgaria. A former foreign correspondent for NPR, Eric's work has also appeared in The New Republic, The Atlantic, National Geographic, The Wall Street Journal, and the anthology Best American Travel Writing. He lives in Silver Spring, MD, with his wife, daughter, and a menagerie of cats and dogs.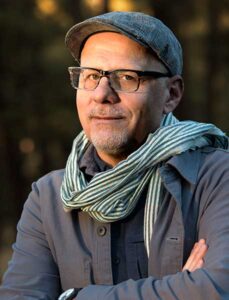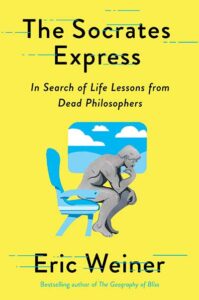 Photograph by Bill O'Leary
---
About the Series
The VCCA Fireplace Series — in the spirit of the sharing of work that takes place among VCCA Fellows after dinner in front of the fireplace at Mt. San Angelo — features live presentations by two Fellows every other Thursday. The focus of these events is on new work, particularly by artists with public events affected by the pandemic.
---
Watch Other Events in the VCCA Fireplace Series
As more events take place, we'll add the recordings to this YouTube playlist: