February 8, 2022 – The Virginia Center for the Creative Arts (VCCA) is pleased to share that three current members of the VCCA Board of Directors have each established new endowed fellowship funds that will provide enduring support for artists seeking time and space at VCCA's artist residency programs in central Virginia (Mt. San Angelo) and southwest France (Le Moulin à Nef).
Residencies can be transformative to an artist's process and the effect on an artist's career profound. With studio space, meals and accommodations provided, a residency at VCCA empowers artists to explore and go deeper into their creative work.
"Endowed fellowships like the ones Sharon Camp Carter, Sandell Morse, and Steven Petrow have established make the gift of a residency experience more accessible to more people," says VCCA Board President Quinn Graeff. "Creating more financial support for artists is central to ongoing diversity, equity, inclusion, and accessibility goals at VCCA."
All VCCA residencies are supported in part by VCCA's Annual Fund, which covers at least 50% of each residency's cost. In addition, VCCA's endowment, which currently stands at $5 million, provides more than $150,000 annually in financial assistance to VCCA Fellows. In addition, VCCA's recently announced 50th Anniversary Fund will support 50 free residencies for artists of color in a single year. VCCA is actively seeking funds to increase its endowment, with the ultimate goal of endowing all of its residencies, removing the need for residency fees of any amount.
"I can't overstate how grateful I am that these Board members have stepped up in this way," says Executive Director Kevin O'Halloran. "Their thoughtful leadership and generous support are vital as VCCA works to one day build an endowment that can sustain free residencies for every writer, visual artist, and composer who attends our residency programs."
Camp-Younts Fellowship
Richmond-based designer and long-time VCCA supporter Sharon Camp Carter joined the VCCA Board of Directors in 2021 and in 2022 established the Camp-Younts Fellowship to provide a two-week residency at Mt. San Angelo each year for an artist working in any genre. As with all endowed fellowships, the donation that funded this endowment will be invested with VCCA's other endowment funds, and income from this fund will provide a fully-funded residency in perpetuity.
The Spiral Shell Fellowship
Writer Sandell Morse has established The Spiral Shell Fellowship to support Fellows attending VCCA's residency program at the Moulin à Nef in Auvillar, France. Morse is a longtime Board member and VCCA Fellow who currently serves as president of the VCCA Abroad Board of Directors. It was at a VCCA residency in Auvillar where Morse began a complex journey of discovery that led to her recent memoir The Spiral Shell, A French Village Reveals its Secrets of Jewish Resistance in World War II  (Schaffner Press, 2020). "Without VCCA, there would be no book," says Morse. "It gives me great pleasure to give back to an organization that has give so much to me and to be able to help other writers." Her nonfiction has been noted in Best American Essays and published in Creative Nonfiction, Ploughshares, the New England Review, and Brevity among others.
Steven Petrow LGBTQ+ Fellowship
Since 2017, award-winning journalist and book author Steven Petrow has annually sponsored the Steven Petrow LGBTQ+ Fellowship. This opportunity will now provide in perpetuity a free two-week VCCA residency to a writer in any genre who self-identifies as LGBTQ+. "Many of our endowed fellowships, such as this one, are intended to increase diversity at VCCA," says Petrow. "It's a privilege to be able to give back to a place that's given me so much." Petrow is well known for his Washington Post and New York Times essays on aging, health, and civility. He's the author of multiple books, most recently Stupid Things I Won't Do When I Get Old (Citadel, 2021). Much of his work over the past decade has taken place at VCCA; he is grateful for the time, space, and magic at Mt. San Angelo and currently serves as a member of the Board of Directors.
*          *          *
VCCA is the nation's largest artist residency program, serving more than 400 writers, visual artists, and composers each year at two locations: Mt. San Angelo in the foothills of the Blue Ridge Mountains in Amherst, Virginia, and the Moulin à Nef, in Auvillar, France.
Since 1971, VCCA has provided time and space for national and international writers, visual artists, and composers of talent and promise to bring forth their finest works, because the arts are vital, diversity is a strength, and creativity is essential.
Share This News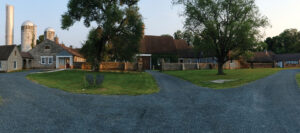 Pictured: VCCA's Studio Barn complex at Mt. San Angelo houses more than 20 studios for writers, visual artists, and composers.
Photo credit: Paige Critcher