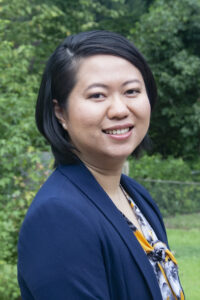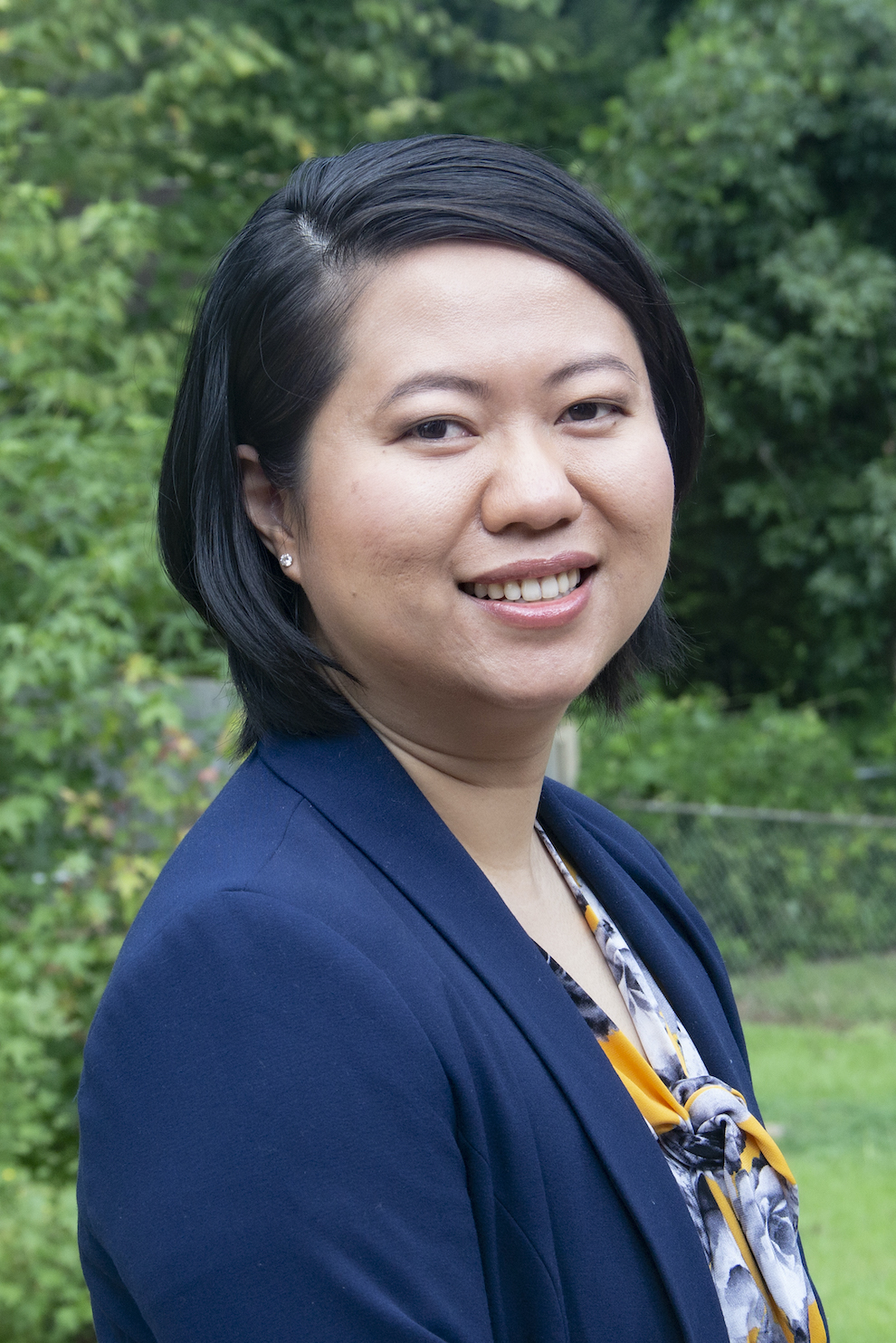 Visual artist Millian Giang Pham came to VCCA's artist residency program at Mt. San Angelo in central Virginia this summer with support from the SSG & AC Edwards Fellowship. Established in 2013 by VCCA Fellow Mary D. Edwards in honor of her parents Sarah Stanley Gordon Edwards and Archibald Cason Edwards Senior, the SSG & AC Edwards Fellowship provides a fully-funded, two-week VCCA residency to support Native American visual artists and female-identifying visual artists.
Mixing images and texts from her native Vietnamese with adopted American culture, Pham is interested in the experience of switching up symbols and codes as a metaphor for changes in perception. "My compositions switch from embroidered and painted text to imagery that reevaluate the framework of fine art and seemingly lowbrow craftwork," says Pham. "I place traditional Vietnamese cultural images or exotic fruits next to words that allude to broken tradition, intergenerational trauma, and certain inherited notions of class, gender, and culture. I'm interested in highly abstracting these words to the point of near illegibility, hiding phrases and presenting them as ambiguous visual puzzles. Since the answer to each puzzle is provided in the title of each piece, the works aim to reorient the viewer toward issues beyond mere appreciation of surface elements. It is an opportunity to navigate toward deeper dimensions through the mode and code switching of visual and verbal perception."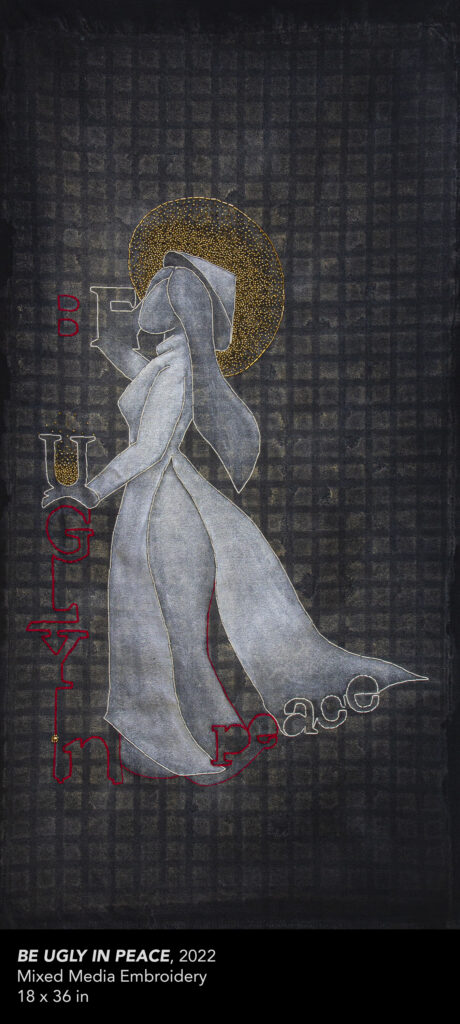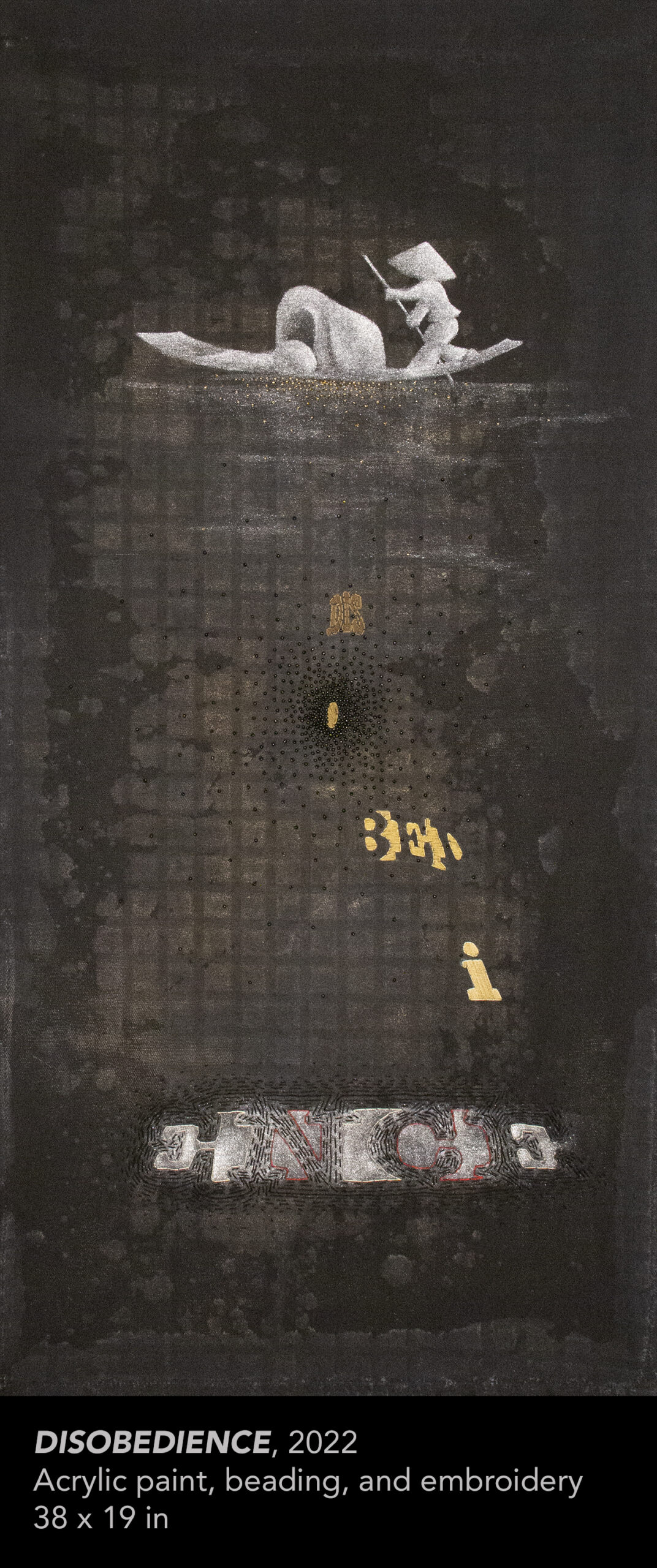 During her two-week VCCA residency in May 2022, Pham surprised herself by being able to begin a new body of work despite many challenges that came from combining intricate embroidery and beading with new experiments in painting and printmaking. "Being around and sharing vision with so many supportive artists, writers, and composers made solving those problems enjoyable and enriching," says Pham. "I was able to be my authentic and unapologetically clumsy creative self while the accommodating staff ensured that my stay was productive."
Pham completed one full new mixed media embroidery (BE UGLY IN PEACE) and resolved another work (Reality Garland) at VCCA, which paved the way for more works in her home studio. "Thanks to the SSG & AC Edwards Fellowship, I was able to seize this opportunity to its fullest and see this new beginning of my creative practice take shape." The two pieces that Pham completed at VCCA will be exhibited in the Strata Gallery Annual Membership Show from July 26 – August 20 in Santa Fe.
On Thursday, August 18, at 7:30 p.m. ET, Pham will present her work virtually as part of VCCA's ongoing Fireplace Series. She'll be joined by fellow 2022 SSG & AC Edwards Fellow Donna R. Charging for an evening of art and conversation.