About the Fellowship
Renowned visual artist and educator Alonzo Davis came to VCCA as a Fellow for the first time in 1995 through a special initiative of the National Endowment for the Arts. He was a member of the VCCA Fellows Council (1999-2003) and served as chair of that group. He joined the Board of Directors in 2004 and in 2007 challenged VCCA to create a permanent, fully-funded, two-week residency for outstanding American writers, visual artists, and composers of African or Latin American descent: the Alonzo Davis Fellowship.
---
Application Details
Eligibility: American writers, visual artists, and composers of African or Latin American descent 
Residencies Available: September 1 – December 31, 2023
Length of Fellowship: Two weeks
Honorarium: $500
Application Opens: October 1, 2022
Application Deadline: January 15, 2023
Application Fee*: $30
Notification by: April 30, 2023
* If the application fee presents a significant barrier to application, please write to vcca@vcca.com by January 10, 2023, to request an application fee waiver.
---
2021-22 Alonzo Davis Fellows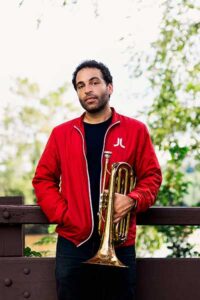 David Dominique
David Dominique is a Richmond-based composer/performer. His output includes jazz, chamber music, electronic music, rock and theater. Dominique's recent albums for jazz octet, Mask (2018) and Ritual (2013), have been praised in the Boston Globe, Downbeat Magazine, Jazz Times, and Los Angeles Times, who called it a "as unpredictable as it is approachable." He has also composed and conducted theater works, including a live score for LA production, Starcrosser's Cut, about which the Hollywood Reporter wrote "the advanced tonalities harmonize euphoniously, if with a free-ranging dread." Dominique has written pieces for soprano Tony Arnold, Talea Ensemble, ECCE, Ensemble L'Arsenale, the Lydian String Quartet, the Radnofsky Saxophone Quartet, and the Formalist String Quartet. As a trombonist, he has performed at such festivals as Coachella, Bumbershoot, and SF Outside Lands. Dominique holds a bachelor's degree from NYU, a Master of Music degree from Cal State, Northridge, and an MFA and PhD from Brandeis University where he studied with David Rakowski and Eric Chasalow. Currently, he is Assistant Professor of Music Composition and Theory at the College of William and Mary. Photo by Joey Wharton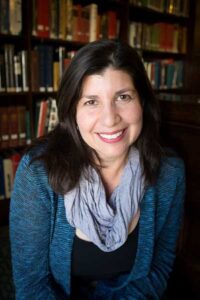 Angela Morales
Angela Morales, a graduate of the University of Iowa's nonfiction writing program, is the author of The Girls in My Town, a collection of personal essays. Her work has appeared in Best American Essays 2013, Harvard Review, The Southern Review,The Southwest Review, The Los Angeles Review, Arts and Letters, The Baltimore Review, The Pinch, Hobart, River Teeth, Under the Sun, Puerto del Sol, and The Indianola Review. She is the winner of the River Teeth Book Prize, 2014, and has received fellowships from Yaddo and MacDowell. Her book is the 2017 winner of the PEN Diamonstein-Spielvogel Award for the Art of the Essay. She has served as a guest and keynote speaker/writer of nonfiction at conferences held at California State University Fresno, CSU Sonoma, Northwestern University, and Occidental College. Currently she teaches composition and creative writing at Glendale Community College and is working on her second collection of essays. She lives in Pasadena, CA with her husband Patrick and their two children, Mira and Leo.
Previous Alonzo Davis Fellows
Eddie Aparicio, visual artist
LaMar Barber, visual artist
Judy Bolton-Fasman, writer
Crystal Z Campbell, visual artist
Angélica Muñoz Castaño, visual artist
Eduardo C. Corral, writer
Teri Ellen Cross Davis, writer
Judy Bolton-Fasman, writer
Ladee Hubbard, writer
Sandra Jackson-Opoku, writer
Ayesu Lartey, composer
Rickey Laurentiis McGhee, writer
Jon Lewis-Katz, writer
Helina Metaferia, visual artist
Natasha Oladokun, writer
Rafael Oses, writer
Chanelle Aponte Pearson, visual artist
---
A Special Edition of the Fireplace Series
Alonzo Davis Fellow Judy Bolton-Fasman joined Alonzo Davis himself for a special edition of VCCA's virtual Fireplace Series in November 2021. Watch the recording below to enjoy their work and conversation.
"The thing about VCCA and other artist retreats is that it forces you into a situation where you must engage and deal with yourself and your creative energy." – Alonzo Davis
"I want particularly the women out there to take heart that it's never too late to do your art, to make your art." – Judy Bolton-Fasman
A Conversation with Alonzo Davis
VCCA Fellow and board member Rone Shavers caught up with Alonzo Davis in May 2020 during the COVID-19 pandemic. The two sat down across the virtual expanse to talk about Alonzo's history with VCCA.
Recent Fellowship Stories
Crystal Z Campbell: "My stay at VCCA was a lovely retreat in nature and a much need workcation. A generously sized studio with a cozy bed quickly became my haven. Studio views were of nature ornamented by kudzu vines, and a terrace doubling as a private reading nook. Birds and stinkbugs greeted me on the way to and from the studio, and I was able to dive deep into some writing and editing during my stay there. Colleagues shared work in-progress and gave generous feedback that has been invaluable to the project. Much gratitude to the Alonzo Davis Fellowship for the support, and the staff and board of VCCA for valuing and supporting creative research."
Alonzo Davis Fellow Crystal Z Campbell Uses Art to Challenge Public Memory