A 2019 recipient of an Alonzo Davis Fellowship, multidisciplinary artist, filmmaker, and writer, Crystal Z Campbell will be in residence at VCCA in January 2020. Crystal has exhibited nationally at The Drawing Center, ICA Philadelphia, Studio Museum in Harlem, Project Row Houses, and SculptureCenter. Internationally, her work has been shown at Nest (The Hague, Netherlands) and Artissima (Turin, Italy). Selected honors she has received include: Pollock-Krasner Award, MacDowell Colony, Skowhegan, Rijksakademie, Whitney ISP, Sommerakademie, Smithsonian Fellowship, MAP Fund, and Flaherty Film Seminar Fellowship.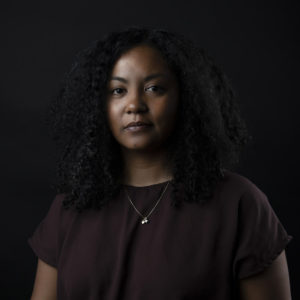 Crystal, whose mother is Filipina and Chinese and whose father is African-American, was born in Maryland and grew up in Oklahoma. Crystal sees art as a "forerunner of justice." She aims to reframe stories and challenge public memory by "bridging the past and present, and challenging our perceptions of sites, events, and histories. My practice is generated from suppressed public secrets. I am intrigued by the politics and motivations of the witness. I work with both archival material and fiction to represent communities and persons awaiting acknowledgment."
Crystal collaborates with past witnesses, searching for "the rupture of historical narratives." Focusing on such topics and incidents as Henrietta Lacks' immortal cell line, the Slave Theater and gentrification, and the 1977 New York City Blackout, Crystal explores whose stories these actually are and how they are told. "Each of my projects is a nudge to collective memory, doubling as a prompt to meditate on the future of our complicit fictions, suppressed memories, and shared histories."
While at VCCA, Crystal intends to work on two projects. "SLICK: Notes from Black Wall Street" which references the 1921 Tulsa Race Massacre and includes paintings over archival photographs, an ongoing film project, and text for a companion publication. Considered the single worst incident of racial violence in U.S. history, the massacre, which was suppressed for many years and not taught in schools, took place on May 31 and June 1, 1921. It destroyed a once vital and prosperous community—the wealthiest black community in the country. More than 35 square blocks of Tulsa's Greenwood neighborhood were annihilated, 800 people were injured and as many as 300 people may have been killed. With the centenary of the Tulsa Race Massacre approaching, the city of Tulsa and state of Oklahoma are planning to excavate sites where suspected mass graves are located.
Crystal will also resume editing footage from a film project shot last summer in the coastal spa town of Varberg, Sweden. This project centers on questions of immigration and displacement, with the film offering a counternarrative to that which the town presents. "Merging gesture, site history, and the body as an archive, I worked with seven performers who have immigrated to Sweden from Cuba, Congo, and Eritrea. Like the Tulsa Race Massacre project, this film is both an insertion into local and national archives, a document, and a question about the politics of imagination and place: is it possible to imagine places in new ways?"
Crystal is grateful to be spending the first two weeks of 2020 at VCCA immersed within the complexities of the south, with the generous support of the Alonzo Davis Fellowship.
Named in honor of VCCA Fellow, former VCCA board member, and visual artist Alonzo Davis, the Fellowship was initiated by him in 2007. It offers a fully-funded, two-week residency supporting outstanding American writers, visual artists, and composers of African or Latin American descent. Two are awarded annually. Crystal Z Campbell is the 17th Alonzo Davis Fellow. VCCA will welcome the 18th Alonzo Davis Fellow, award-winning writer and essayist Judy Bolton-Fasman, in March of 2020.
The next deadline to apply for an Alonzo Davis Fellowship is January 15, 2020.