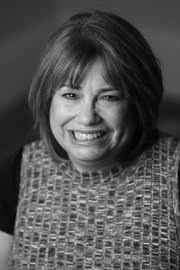 A 2019 recipient of an Alonzo Davis Fellowship, VCCA Fellow Judy Bolton-Fasman (Newton, MA) will be returning in March for her third residency at Mt. San Angelo which she describes as a "Wonderful combination of socializing and solitude." Judy has also been in residence at the Vermont Studio Center, and the Atlantic Center for the Arts. Most recently, she was the Erin Donovan Fellow in Creative Non-Fiction at the Mineral school (Mineral, WA).
Judy is an award-winning writer and essayist whose work has appeared in venues that include The New York Times, The Boston Globe, and Cognoscenti—the essay page of her local NPR station. She has also been a contributor to the parenting blog of The New York Times. Judy is currently the culture reporter for JewishBoston.com where she contributes weekly articles about the culture scene in Boston. She has appeared on NPR and Huffington Post Live, and blogs at www.thejudychronicles.com.
Judy's recently completed  family memoir, Prayers and Trastiendas: A Daughter Tracks Down Her Parents' Secrets, is currently being pitched to publishers. The memoir focuses on both her parents, but her father figures more prominently in the work. At VCCA, Judy plans to work on a collection of memoir essays that explore her mother, whom she describes as "A very colorful character and also a very complicated, troubled woman. I want to plumb the depths of her character and life, and also write about my grandmothers whom were equally complicated in their own ways."
Judy's mother was born in Cuba to Sephardic Jews whose families had emigrated from Turkey and Greece, respectively, each choosing Cuba because they spoke Ladino, a Jewish inflected Spanish language that dates to the 15th century and includes Hebrew and Portuguese. Her mother came to the United States in 1958 hoping to complete her university education and was introduced to her future husband by a neighbor in Brooklyn who was Cuban. At the time, Judy's father had a lot of Latinx friends, particularly Cuban ex-pats, possibly intentionally cultivating them, unbeknownst to her mother, as part of his plan to place himself in Havana as a CIA operative at the beginning of the Castro regime.
"Things were eroding by the time I was born at the end of 1960. My grandmother was in the United States for my birth and went back the following April. According to my mother, she took one of the last direct flights from New York to Havana on Cubana Airlines. But I have to stress that may be my mother's tall tale!"
Her mother's family (which included her aunt and her family, her unmarried uncle and her parents) arrived in the States in 1962. They were fortunate to leave Cuba together, which was a rarity. Judy suspects this was facilitated through her father's CIA connection.
While Judy has extended Cuban-American family members in Florida, her mother had settled in Connecticut with her father and so that's where her extended Cuban Sephardic family also made their home. "They were absolutely miserable," says Judy. "They hated the winters."
Nearly, 20 years older than her mother, Judy's father was from Connecticut and also Jewish. He graduated from Yale in 1940 and was recruited by the CIA. He spent many years in Latin America and Guatemala working for the Agency. One of the essays Judy is struggling with deals with reconciling her father's work with the current situation of Guatemalan asylum seekers trying to enter the U.S. "What I see on the border makes me sick. It's very real to me. I don't need a translator to understand these people when they're on the news, and then I think about what my father did. I have to live with his involvement." In addition, her family now suspects he courted her Cuban born mother as a means to insinuate himself in to Cuba. "That didn't work out," she says. "They married pretty quickly and I was conceived on their wedding night."
Judy, the eldest of three children, is the most bilingual, having spent the most time with her grandparents. Her mother spoke to the children in Spanish, but it took best with Judy because of the reinforcement of conversing with her mother's parents.
Judy has spent time in both Israel and Cuba. "The thing about Cuba and Israel is I felt so at home there. In Cuba, I embraced the way the people  talked because it was the way my mother's family talked. It was a very personal experience for me."
Named in honor of VCCA Fellow, and former board member visual artist Alonzo Davis, the Fellowship was initiated by him in 2007. The Fellowship offers a fully-funded, two-week residency supporting outstanding American writers, visual artists, and composers of African or Latinx descent. Two are awarded annually. Judy had originally planned to do her residency in November, but had to reschedule it, which makes her the 18th Alonzo Davis Fellow.