The Virginia Center for the Creative Arts is pleased to announce composer Jared Smith as the third recipient of VCCA's Anne Spencer Fellowship, established in 2017 in honor of Harlem Renaissance poet and civil rights activist Anne Spencer.
Jared Smith will present a short lecture and share his music on Monday, June 13, 2022, from 3 to 4 p.m., at Wayside Gospel Church in Lynchburg, VA.
The event is free and open to the community, presented in partnership with the Anne Spencer House and Garden Museum.
---
Jared Smith, 2022 Anne Spencer Fellow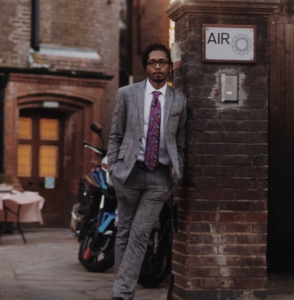 Jared Smith is a young, up-and-coming, LA-based composer. As a double bassist, he grew up playing in a wide variety of ensembles that heavily informed and shaped his musical sensibilities, including symphonies, big bands, chamber ensembles, opera pits, and more. He has lived and studied abroad in four different countries. In 2016, Jared received the Presidential Scholarship from Georgia State University where he majored in Jazz Studies and had the opportunity to study under composer and saxophonist David Sanchez. In 2017, he was awarded a scholarship through GSU to study jazz abroad in Paris, through NYU as a transient student. While abroad, Jared also got to travel and listen to music in places like Lisbon, Marrakech, Brussels, and the Sahara Desert. He spent his summer in 2019 studying abroad at the Film Scoring Academy of Europe in Varna, Bulgaria. This was where he had his first opportunity to write and record for large orchestras, and also have his music played by musicians in the Varna Opera. In Fall 2020, Jared studied at the Berklee College of Music campus in Valencia, Spain, where he would receive his Masters in Scoring for Film, Television, and Video Games. Jared is currently living in LA, where he is writing music for film, TV, video games, and a plethora of other mediums. He is also working as an assistant to composer John Kieth on shows such as "Bob's Burgers" and "Central Park."
---
Event Venue
Wayside Gospel Church
1309 Pierce Street
Lynchburg, Virginia