About the Fellowship
This fellowship was established in 2017 in honor of Harlem Renaissance poet and civil rights activist Anne Spencer. Funded by Elizabeth Logan Harris, Frankie Harris Slaughter, and Lyall Forsyth Harris, the Anne Spencer Fellowship provides a one-month residency and $1,500 honorarium to writers, visual artists, and composers of African American descent. The VCCA residency at Mt. San Angelo includes a private bedroom with private bath, a separate individual studio, and three meals a day in a community of cross-disciplinary artists.
Anne Spencer Fellows tour the Anne Spencer House & Garden Museum and participate in one of the following in the Lynchburg community: a public presentation; a workshop at Anne Spencer partner schools; or another community-based activity in coordination with the Anne Spencer Memorial Foundation, Inc.
Application Details
Current Eligibility: Writers of African American descent

Residencies Available: May 1 – August 31, 2024
Length of Fellowship: One month
Honorarium: $1,500 upon completion of residency
Application Opens: June 1, 2023
Application Deadline: September 15, 2023
Application Fee*: $30
Notification by: December 31, 2023
To be considered as an Anne Spencer Fellow, complete the "Application for Mt. San Angelo Residencies, VCCA in Virginia – Summer 2024," selecting your fellowship interest in Question 2.
* If the application fee presents a significant barrier to application, please write to vcca@vcca.com by September 10, 2023, to request an application fee waiver.
Future Eligibility
2025: Visual artists of African American descent
2026: Composers of African American descent

---
Kyle Rivera, 2023 Anne Spencer Fellow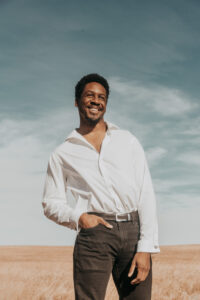 The ever-evolving artistic perspective of Kyle Rivera makes his music a space for intrigue and exploration. Kyle is fascinated by visual imagery in sound. He views sound and time as malleable objects with which he sculpts vivid sonic landscapes. Kyle often draws upon the diverse sound and cultural environments he grew up in to craft the soundscapes of his music.
He is a freelance composer and MM student at the Yale School of Music and earned a BM in Music Composition and Viola Performance from the University of Houston with a Minor in Kinesiology. His principal teachers were Katie Balch, Aaron Jay Kernis, and Dr. Rob Smith. He has also studied composition with Jimmy Lopez, Reiko Fueting, Pierre Jalbert, Christopher Theofanidis, Martin Bresnick, and David Ludwig. Kyle has participated as a fellow at the Aspen Music Festival, the Immanuel and Helen Olshan Texas Music Festival, the Fresh Inc Festival, and the Atlantic Music Festival. He has collaborated with the Houston Symphony, the Indianapolis Chamber Orchestra, Musiqa Houston, Fifth House Ensemble, KINETIC Ensemble, the AURA Contemporary Ensemble, Houston Grand OperaCo, Opus Illuminate, 10th Wave Chamber Music Collective, the Chelsea Music Festival, Bent Frequency, and Toolbox Percussion.
---
Anne Spencer Fellows
---
While in residence at VCCA in 2021, Williamson participated in a VCCA Fireplace Series event streamed live from the living room of the Fellows Residence at Mt. San Angelo. You can watch a recording of the event below. VCCA Fellows Council member Sonja Curry-Johnson hosted the evening which also featured special guest Shaun Spencer-Hester who discussed the legacy of Anne Spencer.