About the Fellowship
This fellowship was established in 2017 in honor of Harlem Renaissance poet and civil rights activist Anne Spencer. Funded by Elizabeth Logan Harris, Frankie Harris Slaughter, and Lyall Forsyth Harris, the Anne Spencer Fellowship provides a one-month residency and $1,500 honorarium to writers, visual artists, and composers of African American descent. The VCCA residency at Mt. San Angelo includes a private bedroom with private bath, a separate individual studio, and three meals a day in a community of cross-disciplinary artists.
Anne Spencer Fellows tour the Anne Spencer House & Garden Museum and participate in one of the following in the Lynchburg community: a public presentation; a workshop at Anne Spencer partner schools; or another community-based activity in coordination with the Anne Spencer Memorial Foundation, Inc.
Application Details
Current Eligibility: Composers of African American descent

Residencies Available: May 1 – August 31, 2023
Length of Fellowship: One month
Honorarium: $1,500 upon completion of residency
Application Opens: June 1, 2022
Application Deadline: September 15, 2022
Application Fee*: $30
Notification by: December 31, 2022
To be considered as an Anne Spencer Fellow, complete the "Application for Mt. San Angelo Residencies, VCCA in Virginia – Summer 2023," selecting your fellowship interest in the first question.
* If the application fee presents a significant barrier to application, please write to vcca@vcca.com by September 10, 2022, to request an application fee waiver.
Future Eligibility
2024: Writers of African American descent
2025: Visual artists of African American descent
---
Marisa Williamson, 2021 Anne Spencer Fellow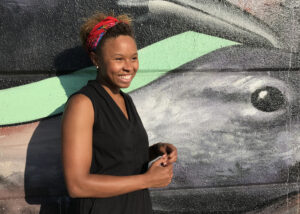 Marisa Williamson is a project-based artist who works in video, image-making, installation and performance around themes of history, race, feminism, and technology. She has produced site-specific works at Monticello, and by commission from Storm King Art Center, the Metropolitan Museum of Art, Monument Lab, and the National Park Service. Williamson holds a BA from Harvard University and an MFA from CalArts. She lives and works in New Jersey, and in 2021 will join the faculty of the McIntire Department of Art at the University of Virginia as an assistant professor of media arts.
While in residence at VCCA, Williamson generously participated in a VCCA Fireplace Series event streamed live from the living room of the Fellows Residence at Mt. San Angelo. You can watch a recording of the event below. VCCA Fellows Council member Sonja Curry-Johnson hosted the evening which also featured special guest Shaun Spencer-Hester who discussed the legacy of Anne Spencer.
---
Anne Spencer Fellows