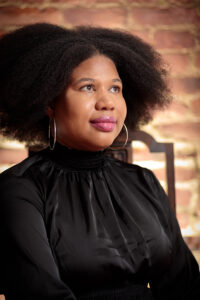 The Virginia Center for the Creative Arts is pleased to announce director, producer, and Emmy-nominated editor Princess A. Hairston as the latest recipient of the Jacques and Natasha Gelman Fellowship. The New York City-based filmmaker and activist will head to Mt. San Angelo in the foothills of Virginia's Blue Ridge Mountains in May of 2022 to attend her first VCCA residency with support from the fellowship.
"It is an honor to receive the Jacques and Natasha Gelman Fellowship," says Hairston. "This fellowship will provide a productive space for me to focus and enhance my work on my first feature film Tracing the Hairstons." Interweaving her search for her African ancestors, director Princess A. Hairston unravels the history of the largest slave-holding family in the U.S. through the personal stories of Black and white individuals in the Hairston clan as her journey unveils a harrowing hidden familial history, exposing America's distorted narrative about slavery.
Hairston was selected as one of 25 filmmaker nominees for the 2020 Lynn Shelton "Of A Certain Age" grant. In addition to Tracing the Hairstons, she is at work on two other feature-length documentaries, The Untitled 19* News, and When You Were Young.
Her wide ranging and acclaimed work as an editor includes such projects as the four-part docuseries LulaRich for Amazon, an upcoming feature documentary titled This World is Not My Own, a one-hour special for the 2020 Biden/Harris campaign, Pier Kids which premiered at DOCNYC 2019, the 2015 Sundance Film Festival selection Fresh Dressed, the first two episodes of the Emmy-nominated series Capture with Mark Seliger, and the five-part 81-minute documentary series Masterpiece of Love.
Hairston wrote and directed the narrative short United States vs White Men and the short documentary Don't Expel the Blacks. She is a 2021 recipient of the Rogovy Foundation summer grant, a 2018 recipient of the Karen Schmeer Editing Fellowship, and a 2018 Winner of the NYTVF + WEtv Producer Pitch which led to a development deal. Her work has been recognized with nominations and awards from the Emmy Awards, Webby Awards, and many film festivals.
The Jacques and Natasha Gelman Fellowship is an endowed fellowship established to provide in perpetuity a fully-funded two-week or one-month VCCA residency with $1,000 honorarium for African American and Latinx visual artists. The VCCA residency at Mt. San Angelo includes a private bedroom with private bath, a separate individual studio, and three meals a day in a community of cross-disciplinary artists. Previous Gelman Fellows include artists Veronica Jackson, Sharon Norwood, Maria Providencia Casanovas, Carl E. Hazlewood, Lisa Beane, and Michael K. Taylor. Applications are currently being accepted for the next Jacques and Natasha Gelman Fellowship, to be awarded for VCCA's Winter 2023 residency season.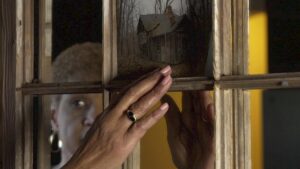 Tracing the Hairstons process photos courtesy of Princess A. Hairston.