About the Fellowship
Supported by the Jacques and Natasha Gelman Foundation, this fellowship provides visual artists of African American or Latin American descent with a fully-funded two-week or one-month residency. The VCCA residency at Mt. San Angelo includes a private bedroom with en-suite bath, a separate individual studio, and three meals a day in a community of cross-disciplinary artists.
Applications Details
Eligibility: African American and Latinx visual artists
Residencies Available: January 2 – April 30, 2024
Length of Fellowship: Two weeks or one month
Honorarium: $1,000
Application Deadline: May 15, 2023
Application Fee*: $30
Notification by: August 31, 2023

To be considered for a Jacques and Natasha Gelman Fellowship, complete the "Application for Mt. San Angelo Residencies, VCCA in Virginia – Winter 2024," selecting your fellowship interest in Question 2.
* If the application fee presents a significant barrier to application, please write to vcca@vcca.com by May 10, 2023, to request an application fee waiver.
---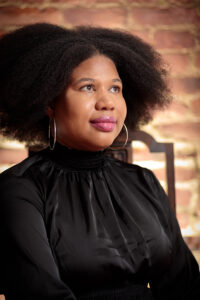 Princess A. Hairston, 2022 Gelman Fellow
Princess A. Hairston is a director, producer, and Emmy-nominated editor based in New York City. Princess was recently selected as one of 25 filmmaker nominees for the 2020 Lynn Shelton "Of A Certain Age" grant. She is currently at work on three feature-length documentaries, Tracing the Hairstons, The Untitled 19* News, and When You Were Young.
She is a 2021 recipient of the Rogovy Foundation summer grant, a 2018 recipient of the Karen Schmeer Editing Fellowship, and a 2018 Winner of the NYTVF + WEtv Producer Pitch which led to a development deal. Her work has been recognized with nominations and awards from the Emmy Awards, Webby Awards, and many film festivals. Read more about Princess A. Hairston and her work.
Previous Gelman Fellows
Artist Interview With Veronica Jackson
VCCA was pleased to serve as a backdrop for an interview with visual artist Veronica Jackson for PBS's The Art Scene, filmed in January 2020 while Veronica was in residence at VCCA as a recipient of the Jacques and Natasha Gelman Fellowship.