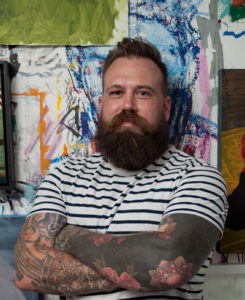 Visual artist Davey Mann, a recipient of a Collateral Reparations: Artists Residencies for Military Veterans Fellowships funded by the National Endowment for the Arts, will be at VCCA for the month of January 2020. It will be his first residency experience.
"Being an artist was my childhood dream," says Davey, who hails from Memphis, Tennessee. His parents divorced when he was two, both remarrying by the time he was five. As a result,  he grew up with two different households, neither of which was supportive of the arts. On his father's conservative side, the arts were seen as unmasculine pursuits, acceptable only as a hobby, and certainly not an appropriate career choice. His mother's side was devout Southern Baptist. "So, the idea of exploring anything culturally or in the arts unless it was 'of God' was frowned on."
Davey did well in school. He was valedictorian of his class and got a full ride to a private college in Memphis, but he wasn't happy because he wasn't doing art. He dropped out, joined the military and shipped out. He was in the service for almost seven years, having reenlisted part way through his first four-year term. Davey was Airborne and Air Assault qualified and saw heavy combat serving as an Infantryman. His platoon was pulled from its battalion and was sent to western Mosul to challenge what Al-Qaeda deemed "The Last Stand" in 2008. A quarter of his platoon was killed.
When Davey returned home following a subsequent deployment to Kandahar, Afghanistan, his attitude toward art was still so ingrained in him that he continued to steer clear of it even though it was his dream to pursue it. He knew he had to readapt to society after being in a combat zone for so long. In a surprising turn, he went to Los Angeles to train as a hair stylist.  Having been around a hypermasculine male environment for so long, he felt an immersion among women would be a good way to readapt to society. He was seeking a means to embrace his feminine traits as a way to balance his personality after years on the battlefield. Smart, huh? It did what he hoped it would do and also proved to be a good stepping stone back to art.
Davey continued to struggle, processing all he had been through. Finally, he enrolled in a voluntary six-week, inpatient PTSD program with the V.A., which was life changing. Talking with other veterans, doing yoga and learning to meditate was healing. According to Davey, the program is very structured, which is familiar to veterans used to the discipline of the military, but the focus is on learning how to readapt to society, how to be okay with emotions again, how to be comfortable in one's own skin, and how to interact with other people.
Primarily a painter, Mann paints from life as well as old photographs. Some of these are of family members, others are strangers culled from the albums he picks up at estate sales and junk shops. The compositions generally feature one to two people, interacting in some way who are also posing for the camera. The faces are rendered in great detail with the other elements, clothing and surroundings produced in a graphically striking manner. There is something lighthearted and nostalgic about these works with the bright colors, smiling people and vintage feel.
The figures in Davey's How to Be a Man series are inspired by the sequential photographs Eadweard Muybridge took to demonstrate human locomotion. Davey discovered Muybridge's work through one of his favorite artists, Francis Bacon, who himself used the photographs as inspiration. Davey was struck by how Muybridge's male models were in very hyper-masculinized roles, contrasting with the female models' equally hyper-feminine roles. "The women are all cleaning or taking care of children and the men are all at the other extreme, they're carrying a gun, fighting, or hammering steel."
Having come from an experience that was profoundly male, the work had real resonance for Davey. "When I was in combat, it was all men, women weren't allowed. It's a very hyper masculine culture. And war itself is hyper masculinized. The whole point of war is establishing dominance, which is really the core of hyper masculinity. There were many times I was reminded of the tale that the book Lord of the Flies was trying to teach us, but war is also an animalistic experience where the only goal is survival. So being in that environment, I believe, whether you're male or female, you have to take on that hyper masculine personality to survive and thrive and do well, but then returning home, you have to figure out a way to tone it back down to more normal levels. I think exploring masculinity is a good way to further understand that."
With How to Be a Man, Davey kept the figures grayscale and introduced a bright pink, which to our eyes appears as a feminine flourish. But as Davey points out, at one time, baby boys were wrapped in pink because it was considered a strong color and baby girls were wrapped in pale blue because it was considered dainty. Davey uses the pink to prod us to consider what it truly means to be a man, as opposed to accepting society's ideas about it. As Davey says, "They're just ideas, cultural ideas, and they actually hold no truth to them, they're just trends".
"As we continue to move forward as a society and start thinking about women's issues," Davey continues. "I think it's also important to think about male culture as well, because similar constructs exist on both sides and they are co-dependent on each other's existence. So, we can't really change one without challenging the ideas the another. To make things better for women, we also have to address the social constructs of being a man."
Davey plans to continue exploring ideas of masculinity. At VCCA, he intends to work on a veteran-based project. He's been keeping a journal for the past month and a half, and taking photographs and interviewing a lot of veterans. "I don't know what direction it will take, or what the end result will be, right now I'm just compiling information, sitting down with other veterans and hearing their stories, letting the project develop on its own as it leads me to the story that needs to be told."