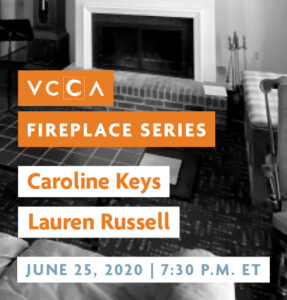 The next live virtual event in the VCCA Fireplace Series will take place Thursday, June 25, 2020, at 7:30 p.m. ET on Facebook Live and YouTube.
This series — in the spirit of the sharing of work that takes place among VCCA Fellows after dinner in front of the fireplace at Mt. San Angelo — features live presentations by two Fellows (writers, visual artists, and/or composers) every other Thursday. The focus of these events is on new work, particularly by artists with public events affected by the pandemic.
Novelist and VCCA Fellows Council member Christina Chiu will host the June 25 event featuring musician Caroline Keys and writer Lauren Russell who will perform and read recent work and answer live questions.
Caroline Keys
Caroline Keys loves the alphabet, but uses music to tell the whole story. Voted "Best Musician" in Missoula Independent's 2018 Readers' Poll, she has shared the stage with Dwight Yoakam, The Decemberists, and The Lumineers. Her writing has appeared on Montana Public Radio and in New Nowhere and The Eudora Welty Portrait Reader project from The Bitter Southerner. She loves to help students find their voice and has done so as poet-in-residence for Missoula Writing Collaborative in the Flathead and Fort Belknap Indian Reservations and in Havre and Missoula, Montana. In 2020 she was nominated for a Pushcart for a piece about teaching poetry published in Whitefish Review.
Keys' latest music project, Junior, recorded an album during January 2020 and had hoped to play a series of fundraising concerts in order to complete production of the album. Alas, that plan was not to be! The group played one successful livestream, which funded a music video that has done well. Still working to raise funds to finish the record!
Lauren Russell
Lauren Russell is the author of Descent (Tarpaulin Sky Press, 2020), which she fact-checked at VCCA, and What's Hanging on the Hush (Ahsahta Press, 2017). She has received fellowships from Cave Canem, the Wisconsin Institute for Creative Writing, and the National Endowment for the Arts, and her work has appeared in The New York Times Magazine, the Academy of American Poets' Poem-a-Day, and The Brooklyn Rail, among others. In the fall of 2020, she will join the faculty of Michigan State University as an assistant professor in the Residential College in the Arts and Humanities and director of the Center for Poetry there.
Descent began when Russell acquired a copy of the diary of her great-great-grandfather, a Captain in the Confederate Army. After the Civil War, he fathered children by three of his former slaves, including the poet's great-great-grandmother. Russell became interested in the diary's omissions and decided to write into those gaps, finally arriving at a hybrid work of verse, prose, and archival documents that traverses centuries as the past bleeds into the present.
SHARE THIS EVENT
 
Watch Other Events in the VCCA Fireplace Series
As more events take place, we'll add the recordings to this YouTube playlist: