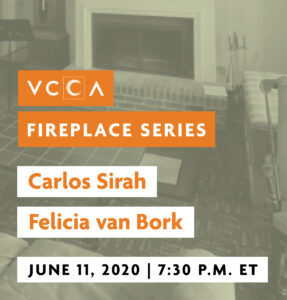 The next live virtual event in the VCCA Fireplace Series will take place Thursday, June 11, 2020, at 7:30 p.m. ET on Facebook Live and YouTube.
This series — in the spirit of the sharing of work that takes place among VCCA Fellows after dinner in front of the fireplace at Mt. San Angelo — features live presentations by two Fellows (writers, visual artists, and/or composers) every other Thursday. The focus of these events is on new work, particularly by artists with public events affected by the pandemic.
Writer and VCCA Fellows Council member David Ebenbach will host the June 11 event featuring writer and performer Carlos Sirah and visual artist Felicia van Bork who will present recent work and answer live questions.
Carlos Sirah | The High Alive
Carlos Sirah is a native of the Mississippi Delta. He is a writer, performer, cultural worker, and U.S. military veteran who opposes U.S. militarism, both at home and abroad. Sirah creates formal structures rooted in Black expressions of possibility, taking the shape of concert, lyric prose, procession, as well as screen and stage plays. Sirah's interdisciplinary practice thinks with multiple aesthetic traditions: Black Arts Movement, Theatrical Jazz, Free Jazz, Blues, and Black Spiritual practices. Sirah is a member of the Remember2019 collective and the emerging Veterans Art Movement. Sirah holds an MFA in Writing for Performance from Brown University.
His debut work, The High Alive: An Epic Hoodoo Diptych, is published by The 3rd Thing Press. The High Alive was released in late winter, but is receiving a modified roll-out due to the global pandemic. Portions of The High Alive were thought through and developed at VCCA.
Felicia van Bork | NC Women Abstract Painters
Felicia van Bork is a professional artist who is best known for her paintings and collages. She is based in Davidson, North Carolina, which is near Charlotte, where she teaches painting and drawing at Central Piedmont Community College. She manages the printmaking facility at the McColl Center for Art + Innovation, also in Charlotte. In 2011, Felicia earned her MFA at MassArt, the Massachusetts College of Art and Design. She completed her undergraduate studies at the Ontario College of Art and Design University in Toronto, Canada. She has been awarded numerous honors including residency fellowships with the American Academy in Rome in 2017 and VCCA in 2019.
Currently, over 100 of van Bork's recent paintings and collages are included in the 2020 exhibition, "NC Women Abstract Painters" at the GreenHill Center in Greensboro, NC. Her collage, "How to Mine the Past," is in the permanent collection of the Mint Museum, Charlotte. Several of her collages are traveling with the Mint's exhibition, "Under Construction: Collage from the Mint."
SHARE THIS EVENT
 
Watch Other Events in the VCCA Fireplace Series
As more events take place, we'll add the recordings to this YouTube playlist: