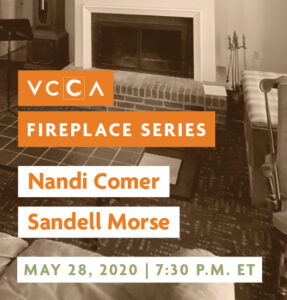 The next virtual event in the VCCA Fireplace Series will take place Thursday, May 28, 2020, at 7:30 p.m. ET on Facebook Live.
This series — in the spirit of the sharing of work that takes place among VCCA Fellows after dinner in front of the fireplace at Mt. San Angelo — will feature live presentations by two Fellows (writers, visual artists, and/or composers) every other Thursday. The focus of these events will be on new work, particularly by artists with public events affected by the pandemic.
Writer and VCCA Fellows Council member Lex Williford will host the May 28 event featuring poet Nandi Comer and nonfiction writer Sandell Morse who will read from their newly released books and answer live questions.
Nandi Comer, Author of Tapping Out
Nandi Comer is the author of Tapping Out (Northwestern University Press) and the chapbook American Family: A Syndrome (Finishing Line Press). She is a Cave Canem Fellow, a Callaloo Fellow, and a 2019 Kresge Arts in Detroit Fellow. She directs the Allied Media Project's Speakers Bureau and is a founding member of the collective, Detroit Lit.
Sandell Morse, Author of The Spiral Shell
Sandell Morse's nonfiction has been noted in Best American Essays and published in Creative Nonfiction, Ploughshares, the New England Review, and Brevity among others. She has won the Michael Steinberg essay prize, been nominated for Best of the Net and two Pushcart Prizes. Her memoir The Spiral Shell, A French Village Reveals its Secrets of Jewish Resistance in World War II was released by Schaffner Press on April 14, 2020.
The Spiral Shell explores the complex relationship between French Jews and their neighbors and the long silence that ensued after the War. Yet, this book is much more than a research project. Morse arrived in Auvillar with a name. Jean Hirsch was a nine-year-old resistance courier during World War II. The boy's story connected Morse to another story and another. She hit roadblocks after roadblock; yet, at the same time, strangers opened their hearts and led her to seeking weightier truths. As she spiraled down into these stories, she journeyed back to her own faith. "Without VCCA, there would be no book," says Morse.
SHARE THIS EVENT
 
Watch Other Events in the VCCA Fireplace Series
As more events take place, we'll add the recordings to this YouTube playlist: