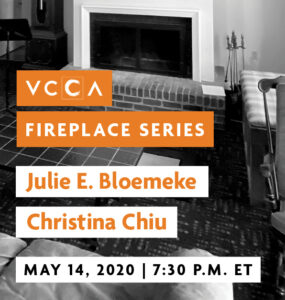 The first virtual event in a new "VCCA Fireplace Series" debuts Thursday, May 14, 2020, at 7:30 p.m. ET on Facebook Live.
This series — in the spirit of the sharing of work that takes place among VCCA Fellows after dinner in front of the fireplace at Mt. San Angelo — will feature live presentations by two or three Fellows (writers, visual artists, and composers) every other Thursday. The focus of these events will be on new work, particularly by artists with public events affected by the pandemic.
Washington Post columnist and VCCA board member Steven Petrow will host the inaugural event featuring poet Julie E. Bloemeke and novelist Christina Chiu who will read from their newly released books and answer live questions.
Christina Chiu, Author of Beauty
Christina Chiu is the winner of the James Alan McPherson Award for her novel Beauty. She is also author of Troublemaker and Other Saints, published by G.P. Putnam's Sons. Troublemaker was a nominee for a BOMC Stephen Crane First Fiction Award, and winner of the Asian American Literary Award. Chiu has published in Tin House, The New Guard, Charlie Chan is Dead 2, Not the Only One, Washington Square, The McGuffin, and has won literary prizes from Playboy, New Stone Circle, El Dorado Writers' Guild, and World Wide Writers.
Chiu received her MFA from Columbia University. She is a founding member of the Asian American Writers' Workshop, and the recipient of the Wai Luk Award for Outstanding Service to the Arts. Chiu curates and co-hosts the "Let's Talk Books" Author Series sponsored by the New York Writers Workshop, as well as the Pen Parentis Literary Salon in New York City. She is also a shoe designer and visual artist.
Julie E. Bloemeke, Author of Slide to Unlock
Julie E. Bloemeke's first full-length poetry book, Slide to Unlock, debuted with Sibling Rivalry Press in March 2020. Eerily enough, the collection is an exploration of our perceived boundaries of intimacy through digital connection. Julie says, "To bring this particular book into the world via previously unanticipated channels — such as Zoom poetry readings — has offered another layer of powerful awareness in how we connect. I have been deeply moved not only by the support and love of those who are finding creative ways to amplify books, but also by the letters I have received about how the poems are resonating, allowing readers to feel 'seen' in our relationship with technology. Written over the course of a decade — with a great debt of gratitude to the sacred space of VCCA — my hope is that Slide to Unlock continues to offer companioning as we navigate this uncharted chapter of touch without touch."
Bloemeke's work has been widely anthologized and appeared in numerous journals including Gulf Coast, Prairie Schooner, Poet Lore, Cortland Review and others. She received her MA from the University of South Carolina and her MFA through the Bennington Writing Seminars. A freelance writer, editor, and guest lecturer, her interviews have been recently published in The AWP Writer's Chronicle and in Poetry International. A Toledo native, she currently lives in Atlanta.
SHARE THIS EVENT
Watch Other Events in the VCCA Fireplace Series
As more events take place, we'll add the recordings to this YouTube playlist: