The Virginia Center for the Creative Arts (VCCA) is honored to announce that it has received a General Operating Support Grant from the Virginia Commission for the Arts (VCA) for 2023-2024.
In addition to providing monetary support to VCCA's artist residency program, such a grant acknowledges the important role VCCA plays in the arts ecosystem of Virginia.
The Virginia Commission for the Arts was established in 1968 and plays a pivotal role in lifting Virginia artists, organizations, schools, and communities through meaningful grants that drive innovation in the arts. With this grantmaking activity supported through the General Assembly and the National Endowment of the Arts, the VCA invests millions of dollars annually in the arts across Virginia.
VCCA received high marks from the advisory panel committee, which noted VCCA's strong track record of artistic excellence; a robust selection process for Fellows; a solid relationship with Sweet Briar College; strides toward diversity and inclusion; the high qualifications and experience of VCCA's staff, board, and Fellows; a well-developed strategic plan; and strong financial position.
VCCA thoroughly enjoyed the opportunity to host VCA Commissioner Barbara Parker in July 2023. Parker was able to visit with three Virginia-based artists who were in residence at VCCA at the time: composer Rachel Austin of Waynesboro, writer Brandon Haffner of Richmond who teaches at Longwood University, and visual artist Jing Qin of Norfolk who teaches at Old Dominion University. Each artist shared how the uninterrupted studio time and artistic community of VCCA impact their work in meaningful ways.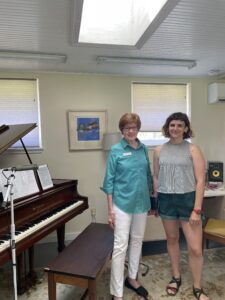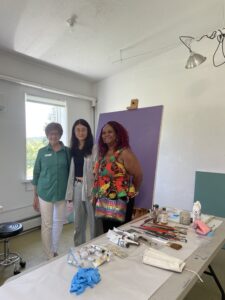 VCA Commissioner Barbara Parker with composer

Rachel

 

Austin in VCCA studio C1.

VCA Commissioner Barbara Parker with visual artist Jing Qin and VCCA Grants and Outreach Manager Shawn Washington in VCCA studio VA6.
The Virginia Commission for the Arts (VCA) is the state agency that supports a vibrant arts landscape in the Commonwealth. Through the allocation of grant funding and additional resources, the VCA invests in all art disciplines for the benefit of all Virginians.