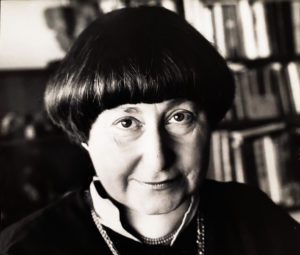 Poet, fiction writer, translator, art critic, literary scholar, professor emerita of Queens College, and six-time VCCA Fellow Harriet Zinnes died in her sleep on November 30, 2019. She was five months shy of 101.
Highly prolific, Zinnes authored eleven books of poetry, six chapbooks, and two short story collections; edited a book of Ezra Pound's art criticisms; translated a collection of poems of Jacques Prévert; and wrote countless literary articles for journals such as The Nation, Chelsea, Denver Quarterly, Colorado Review, Hollins Critic, and Philadelphia Inquirer and art reviews for NY Arts and other art magazines.
Associated with poets such as Karl Shapiro, Delmore Schwartz, Alan Ginsberg, and her close friend and mentor the writer Anaϊs Nin, as well as with the Beat and Language Poets, Zinnes' poetic and critical output dealt with a complex transition between the aesthetic and social tensions associated with high modernism and postmodern literature and art. 
Zinnes received her Bachelor's degree at Hunter College, CUNY in 1939. She was married to Irving Zinnes (1916-1979), a theoretical physicist who taught at Princeton, University of Geneva (Switzerland) and Fordham, and whose work in quantum mechanics helped keep Harriet abreast of theoretical science and philosophy, disciplines which, combined with her knowledge of literature and art, constitute the bulk of the point of departure of her poetry and prose. 
She is survived by her two children, Alice and Clifford, and Clifford's three children, Anais (named after Anaϊs Nin), Sebastian and Roman. Alice, a painter and a professor of studio art at The Pratt Institute and NYC College of Technology, CUNY, has been a Fellow at VCCA four times since 1992. Harriet came to VCCA six times from 1988 to 1999.
Memorial to Be Held March 7, 2020
A memorial service will be held at Poets House in New York on March 7, 2020, from 6-9 p.m. During the service, Zinnes will be remembered through videos of her reading; readings of her poems, stories, and translations by poets Daniela Gioseffi, Thomas Fink, Burt Kimmelman, and Professor Nelly Frechin de Castet; and music by contemporary composers Gheorghe Costinescu and Gao Ping, family members and others. The service is free and open to all lovers of poetry. This event has been made possible through Poets House's Literary Partners Program.