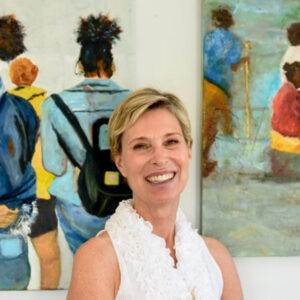 Laurie Tuchel has been named the 2021 recipient of VCCA's Harry D. Forsyth Fellowship for the Visual Arts, which supports Sweet Briar College alumnae demonstrating exceptional ability and commitment in the area of visual arts. The fellowship provides a two-week residency at the Virginia Center for the Creative Arts (VCCA) in Amherst, Virginia, located right across Highway 29 from Sweet Briar College.
Laurie Tuchel is an American artist who divides her time between adopted homes on Grand Bahama Island and Edinburgh, Scotland. Interested in landscapes as well as the human figure, Tuchel is drawn to exploring people and their relationship to time, place, and the changing moods of the natural environment.
Tuchel earned a Bachelor of Arts degree in Anthropology and Sociology from Sweet Briar College in 1980. In 2013, she studied with French Impressionist painter Jill Steenhuis, a Sweet Briar classmate and VCCA Fellow (2009). Since 2014, Laurie has exhibited paintings in The Bahamas, the United States, and Scotland.
As the 2021 Forsyth Fellow, Tuchel will return this November to the foothills of Virginia's Blue Ridge Mountains, where she will have uninterrupted time and space to focus on her creative work. Tuchel is looking forward to immersing herself in VCCA's community of cross-disciplinary artists. "An opportunity to share and listen to other creatives in such a beautiful setting will provide me with an opportunity for exchange and personal, creative growth," says Tuchel.
In residence at VCCA, Tuchel plans to continue work on an ongoing series exploring the stories of Grand Bahama Islanders following the devastation of Hurricane Dorian, which hit The Bahamas on September 1, 2019, as a Category 5 hurricane. "Dorian destroyed and erased so many homes, lives, and individual stories of Grand Bahamians," says Tuchel. "I want to help them to remember, cherish, and restore."
"Through original paintings which I transcribe into needlepoint, I'm attempting to illustrate the need to remember our island's collective history and personal narratives," says Tuchel. "Having needlepointed throughout my life, it is a medium which reminds me of home and the importance of remembering from where we come."
---
The mission of the Virginia Center for the Creative Arts (VCCA) is to provide time and space for national and international writers, visual artists, and composers of talent and promise to bring forth their finest works, because the arts are vital, diversity is a strength, and creativity is essential. The artists who come to VCCA, whether emerging or established, are selected by peer review on the basis of the important or innovative work they are doing in their respective fields.
In residence, VCCA Fellows are provided with an individual studio, a private bedroom with en-suite bath, and three meals a day in a community of cross-disciplinary artists. Life at VCCA is free of many of the distractions we find in everyday life. Artists are granted solitary time to focus on their art, and are also part of a collaborative community of accomplished artists that provides insights, new ideas, and stimulating conversation. VCCA Fellows are free to work at their own pace in quiet, spacious, light-filled studios, just a short walk from their residence overlooking the beautiful Blue Ridge Mountains.