AMHERST, VA. (July 1 2020) — The Virginia Center for the Creative Arts (VCCA) and Sweet Briar College are pleased to announce that VCCA has purchased the Mt. San Angelo estate from Sweet Briar College. The purchase includes 410 acres of land and all of the buildings at Mt. San Angelo, which has served as the home of VCCA's artist residency program for 42 years.
It was in spring of 2019 that VCCA approached Sweet Briar with the proposal to purchase the land it was leasing from the College and secure its future.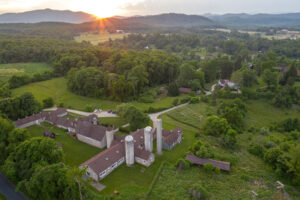 VCCA was established in 1971 as a retreat for writers, visual artists and composers to have the privacy and focus that is so necessary to their work. It moved from its original location in Charlottesville, Va., to Mt. San Angelo in 1978. Since then, VCCA has hosted thousands of working writers, visual artists and composers. VCCA intends to maintain the pastoral nature of Mt. San Angelo so that it will continue to be a place of quiet contemplation for the Fellows in residence there.
"We are grateful to Sweet Briar College, which has made the property available to us for 42 years, and we couldn't be more pleased to be in a position to make Mt. San Angelo our permanent home—across the street from our long-time partner. This partnership has strengthened both institutions over the years, and VCCA looks forward to continuing this relationship," said VCCA Executive Director Kevin O'Halloran. "Although VCCA is closed temporarily due to the Covid-19 pandemic, we will be busy over the next several months making improvements to the buildings and grounds so that we can welcome Fellows back during 2021, our fiftieth anniversary year."
VCCA is one of the few artist residencies in the country affiliated with an institution of higher learning. VCCA Fellows in residence have full access to the recreational and cultural opportunities provided by the College, and indeed, the artists themselves often provide cultural opportunities to students and the Sweet Briar community.
"The arts are at the heart of the liberal arts tradition at Sweet Briar," Sweet Briar President Meredith Woo said. "We understand and support VCCA's desire to own the facilities and land that it has called its home. The relationship between the two institutions is exceptionally strong, and we look forward to further nurturing the ties across Highway 29."
The relationship between the two organizations includes events, seminars and classes. One such class is the Fellows Studio, which is a part of Sweet Briar's leadership core curriculum and brings VCCA Fellows to campus to teach a class during each of the College's three-week sessions. VCCA is also an integral part of Sweet Briar's Center for Creativity, Design and the Arts.
---
Sweet Briar College
Located in the foothills of the Blue Ridge Mountains near Lynchburg, Va., Sweet Briar is a liberal arts and sciences college for women of consequence. Sweet Briar's nationally recognized academic, study-abroad and equestrian programs prepare the next generation of women leaders. Three centers of excellence represent the College's academic distinction in engineering, science and technology; sustainability; and creativity, design and the arts. For information, please visit www.sbc.edu.
---
VCCA
VCCA is a unique Virginia-based organization that provides time and space 
for
 national and international writers, visual artists and composers of talent and promise to bring forth their finest works. Since its founding in 1971, VCCA has hosted more than 6,000 writers, visual artists and composers. VCCA hosts over 400 artist-Fellows annually at its Mt. San Angelo facility in Amherst, Virginia, and Le Moulin à Nef in Auvillar, France. The artists who come to VCCA, whether emerging or established, are selected through competitive peer review on the basis of the important or innovative work they are doing in their respective fields. VCCA is preparing to celebrate its fiftieth anniversary in 2021.
---
Media Contacts
Sweet Briar College:
Dana Poleski, Office of Communications, dpoleski@sbc.edu, 434-381-6379
VCCA:
Kevin O'Halloran, Executive Director, kohalloran@vcca.com, 434-946-7236
Kim Doty, Director of Communications, kdoty@vcca.com