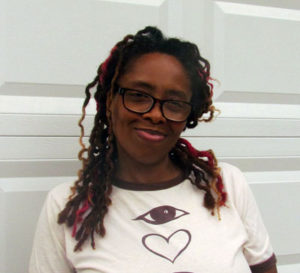 VCCA found its most recent recipient of the Jacques and Natasha Gelman Fellowship almost in its backyard, just down the road a bit in Bedford, Virginia. That's where visual artist Veronica Jackson moved a few years ago to be closer to her mother and grandmother.
Veronica's route to becoming an artist was circuitous. A graduate of the University of Virginia Architecture School, Veronica was the principal of a very successful museum exhibition design firm based in Washington, D.C. Veronica produced designs for such exhibitions as  African Voices at the Smithsonian Institution's National Museum of Natural History, The American Presidency: A Glorious Burden at the Smithsonian National Museum of American History, Discovering the Civil War at the National Archives and Records Administration, and the W.E.B. Du Bois Homesite Interpretive Trail in Great Barrington, Massachusetts.
Sounds like highly rewarding work, but after 30 years, Veronica was bored. "I wasn't doing my museum design work in the way that I thought was beneficial to the part of society I wanted to be involved with. Initially, I called it a mid-career crisis and then it turned into a crossroads. This came about as I evaluated what I wanted to do for the rest of my life. How I wanted to be a better citizen and contribute to society. I also wanted to teach, that's the main reason I got the Masters. I wanted to give back." Veronica had been  teaching part-time at the Corcoran School of Art in their exhibit design department. But despite her stature in the field and the length of her career, she could only be hired as an adjunct professor because she didn't have an M.A. So, in 2014 Veronica closed her design firm and headed to grad school at California College of the Arts in San Francisco where she received a graduate degree in Visual and Critical Studies .
Veronica's training in museum exhibition design has understandably been very helpful, particularly given her emphasis on installations that use physical objects and their placement to tell a story, "I can see the concept, can execute it, and see it to fruition." She also has the added satisfaction of absolute control of her product,  visually articulating the stories she wants to tell.
"I've always been a student of visual culture," says Veronica. "I truly believe that visuals matter in our society. What we put in our visual landscape affects who we are." Her practice focuses on the disenfranchised, specifically African-American women and girls. She has several projects in mind for her month-long residency in January. Chief among them is her ongoing "Language of Invisibility" series, which addresses her plight as a black woman in our society, who are often devalued and erased.  The work features black letters on black panels. The letters are plastic and the surface is felt, so it is possible to read the text, but you have to make an effort to do it. In some, Veronica has substituted selected black letters with white letters so there's a secondary message that can be seen running across the boards. The white letters are clearly legible, the implication being that white is seen, white is "better," white is valued. Thus far, Veronica has completed four panels. She wants to fill a wall with them and is planning on doing 36.
This will be Veronica's second residency. Her first was at the Santa Fe Arts institute, which she credits with jumpstarting  her visual art practice. "My original project was to create an exhibition about black abstract expressionist artists. However, The Language of Invisibility project had always been in the back of my mind, but it all came together at SFAI because I was talking to other artists and talking about my ideas."