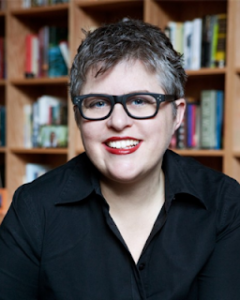 The inaugural Steven Petrow LGBTQ+ Fellow, Cris Beam, will be in residence at VCCA for the month of August.
Cris is an author and professor in New York City. Her most recent book, To the End of June: The Intimate Life of American Foster Care (Houghton Mifflin-Harcourt, 2013), was named a 2013 New York Times Notable Book, was longlisted for the Andrew Carnegie Award, shortlisted for the William Saroyan Prize and was a best book on several year-end lists including NPR, New York Magazine and The Boston Globe. She is also the author of Transparent: Love, Family and Living the T with Transgender Teenagers (Harcourt 2007), which won a Lambda Literary Award and was a Stonewall Honor book. Her young adult novel, I am J, (Little, Brown in 2011) was named a Kirkus Best Book and Library Guild Selection, and is the first book with a transgender character to land on the state of California's recommended reading list for public high schools. Her short memoir, Mother, Stranger was published by The Atavist in 2012 and quickly reached the top ten on Kindle Singles. Forthcoming from Houghton Mifflin Harcourt is I Feel You. Beam's work has also been featured in The New York Times, The Awl, Huffington Post, The Guardian and on This American Life. Beam is an assistant professor at William Paterson University. She's currently working on a novel.
The Steven Petrow LGBTQ+ Fellowship is open to applicants working in all genres (writers, visual artists, and/or composers) and consists of a fully-funded two-week residency at VCCA, which includes a private bedroom, board, and an individual work studio. To be eligible applicants must self-identify as LGBTQ+.
A VCCA Fellow himself, Steven is an award-winning journalist, hailed as an expert on modern manners by The New York Times, People, Time, and NPR. Steven is a columnist for the Washington Post and for USA Today. Previously, he wrote The New York Times's "Civil Behavior" column and "Digital Dilemmas" for Parade magazine. His five books include Steven Petrow's Complete Gay & Lesbian Manners, The Lost Hamptons, and Dancing Against the Darkness: A Journey through America in the Age of AIDS. 
Steven's own work about LGBTQ+ issues found much support at VCCA over the past decade. "I'm funding this fellowship to provide support and recognition to LGBTQ+ writers and artists, especially because government funding of the arts is at risk these days. The arts are core to a democratic nation," Steven said.