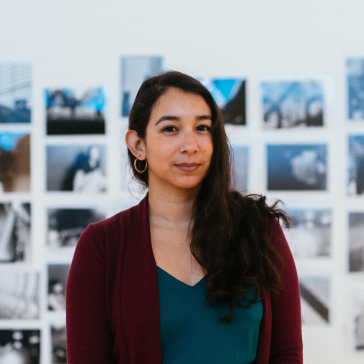 The inaugural Richard S. and Julia Louise Reynolds Poetry Fellow, Amanda Galvan Huynh, is the author of the chapbook, Songs of Brujería (2019) and the co-editor of Of Color: Poets' Ways of Making: An Anthology of Essays on Transformative Poetics (2019).
Like most Texans, Amanda has a deep connection to her home. But her experience is quite different from the stereotypical image one might have about what that means. Amanda is the granddaughter of Chicano migrant farm workers who moved up and down the state harvesting crops. As she points out, they were not immigrants; her family had been living in the area since the time what is now known as Texas was part of Mexico. The borders may have changed, but the land and the powerful ties to it remain.
This was something not even she really thought about growing up in America. When she finally did, it changed her perspective about everything.
Amanda had never lived outside of Texas until she went to Norfolk, Virginia in 2014 to attend Old Dominion University for her MFA in poetry. It was from that distance, that her cultural inheritance became so apparent to her. Right now, she is living in Middletown, New York, taken there by her partner's medical residency. Like her, he is also from Texas, born in Houston to Vietnamese-American parents. The couple, who have been together for ten years, hope to return to Texas when his residency is completed.
Amanda's poems speak with immediacy, eloquence and emotion of the Chicano experience. Her poems have a quiet fierceness. They're terse, but so densely packed with compelling images and information, they leave you quite breathless in awe at the vivid stories she tells and how she tells them.
Tongue Untethered  (published with The Shallow Ends)
after Melissa Lozada-Oliva
My Spanish spoons the crescent
of my dreams. Her feet walk inside ripples
of a dress sewn with starlight. She holds
my face to untether my tongue from its root
of self-doubt, and leads me into the dark
reflection of the sky. Here, we run—
we run among an uproar of words sprouting:
camino, luna, estrella, casa, calle, coche—
until cities overgrow in my mouth.
People and places I longed to hear
become clear as ice melting in the heat
of a Texas night. My Spanish braids summers
full with field work—her old fingers moving
back and forth tell secretos of spices y ganas—
through the frizz and curls of my Mexican
hair. She tells me, Qué linda. She tells me,
Tu nombre es una canción. My name, a song
when I say it in Spanish: Ana! Those "A"s
shaken free from English, open their arms
to envelop the Bidi Bidi Bom Bom mi familia
sways to. My Spanish turns over memories
half understood: dancing norteña con mi abuelo.
The beer on his breath, his boots shuffling,
and the scruff of a farmer's accent. My Spanish
helps me collect abuelo's words into a jar—
baila, chiquita, cerveza, ojalá, trabajo, algodón—
like bits of metal in a junkyard. I press them
to my ear, to hear the worn leather of his voice:      
               ¿Qué pa-hó mija?                                               'stá bien chiquita.                                O-ha-le. 
My Spanish cracks open these lines to show me
the softness between las palabras, the untranslatable
in expressions, the pieces I feel are missing
from my whole. My Spanish stays until dawn quiets
the night, asks for me to sing my name into the sun—
because she does not want to forget its music.
At VCCA, Amanda intends to study the Loving v. Virginia case, and is enjoying the synchronicity of being in Virginia as she is doing it. She plans to use it as inspiration for a collection of poems. It has particular significance for her because, as she points, out the laws banning interracial marriage did not just prevent black and white couples from marrying, but all races. She and her partner would not have been able to marry if those laws were still in place. And even though it is legal today, interracial couples must still deal with people's disapproval and/or violence. This is particularly challenging when those people are family members. With this project, and her other poems, Amanda trains an unblinking gaze on the day-to-day realities faced by a significant portion of the population. Too often and for too many, these realities are completely overlooked. Amanda will be in residence beginning November 4.
Named for Richard S. ("R.S.") Reynolds and his wife, Julia Louise, this new VCCA poetry Fellowship reflects their shared passion for poetry. The nephew of R. J. Reynolds of Reynolds Tobacco, R.S. Reynolds made his fortune in aluminum, which he initially introduced as an inexpensive, light and sturdy product to use in cigarette packaging. Reynolds Metals was the second largest producer of aluminum at the onset of World War II and became a key player in the war effort, producing the raw material used, most notably, in aircraft production. Following the war, R.S. Reynolds expanded into household products, bringing Reynolds Wrap aluminum foil onto the market.