The Virginia Center for the Creative Arts (VCCA) was pleased to welcome visual artist and educator Ernest Shaw to Mt. San Angelo in August 2022, where he attended a two-week artist residency supported by the Maryland Institute College of Art (MICA) Fellowship.
The MICA Fellowship provides two- or three-week residencies to faculty of the Maryland Institute College of Art with at least three years of service. A VCCA residency at Mt. San Angelo includes a private studio, a private bedroom, and three meals a day in a community of cross-disciplinary artists.
"My time at VCCA was both peaceful and inspiring," says Shaw. "Being in company with so many talented creatives, in such a calm environment, is a recipe for creative success."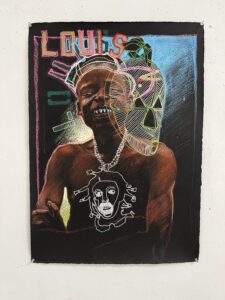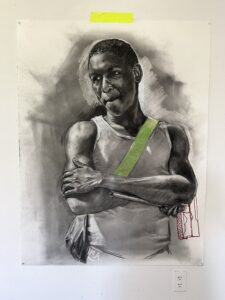 Being a native of West Baltimore has taught artist Ernest Shaw the meaning of perseverance, community and integrity. As a product of Baltimore City Public Schools, Baltimore School for the Arts, Morgan State University, and Howard University, Shaw recognizes the importance of using his skills and talents for the betterment of others, not simply for his own self-aggrandizement. For Ernest, teaching is also an artistic medium.
"My work is in dialogue with the humanity of the viewer by exhibiting the humanity/humanness of the subject," writes Shaw. "All works are works in progress which is a constant aspect of my creative process. Everything is seen as a part of the process/journey."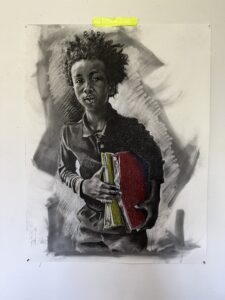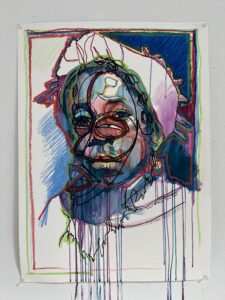 Images courtesy of Ernest Shaw from his time at VCCA.
The MICA Fellowship is typically offered during VCCA's summer residency season, with applications due September 15 the year before. The L.E.A.W. Family Foundation has generously provided funds for the MICA Fellowship, an opportunity made possible by VCCA Fellow and Board member Linda Wachtmeister who is also a MICA alumna (Ceramics, '73). "I have experienced wonderful things because of being a MICA artist and a VCCA Fellow," says Wachtmeister. "I wanted to share that with other people."