The Virginia Center for the Creative Arts (VCCA) is looking forward to welcoming visual artist Crystalyn Hutchens to Mt. San Angelo in December 2022 as the inaugural recipient of the Marian Treger Fellowship for Enduring Creativity, a fully-funded residency at VCCA established to support women whose creative paths may have been detoured or hindered by chronic health conditions or disabilities.
Hutchens is an Ohio-based semi-realistic artist who lives with several non-visible disabilities, including postural orthostatic tachycardia syndrome (POTS). Her current body of work centers around bringing attention to individuals in the chronically ill and disabled communities who experience hidden disabilities.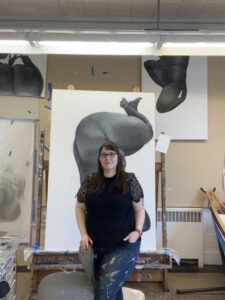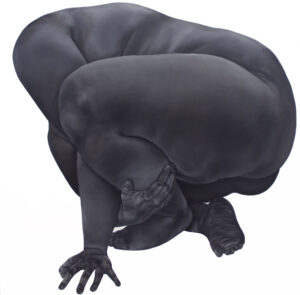 Crystalyn Hutchens

"3", 36 x 36 in., oil on canvas, 2022
"I plan on working on a series of drawings and taking time for experimentation during my time at VCCA," says Hutchens. She also intends to spend time researching the physiological effects of invisible disabilities. "I am passionate about connecting people and creating areas of vulnerability, empathy, and discussion. I will spend time researching, reflecting, and pushing myself to see where my work needs to go next."
Her work at VCCA will be a continuation of her current exploration of the human body as a visual language to express the inner struggles of chronic disease and disability. "Having an invisible disability has heavily influenced my life and in turn has changed my visual artwork," says Hutchens. "The human body in my work is used as a way of creating language for the unseen impact of these disabilities from a female perspective as well as a visual for creating a purely bodily experience. My paintings and drawings both share different distinct sides of the physical experience of illness and the psychological struggle."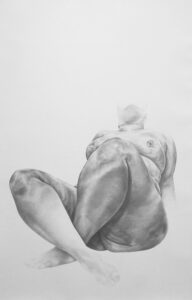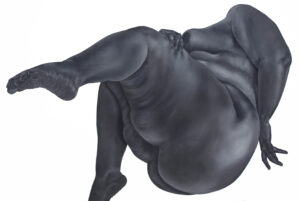 "4", 42 x 68 in., graphite and pan pastel on bristol, 2021

"10", 48 x 72 in., oil on canvas, 2022
Hutchens strives to make work that can be visually read by all types of audiences to start a dialogue of understanding, compassion, and connection. Her work has been exhibited in multiple regional and national juried exhibitions and has been recognized internationally with the Eco Aware Art Gallery in India. She earned her Bachelors of Fine Arts from Ohio University, her Master's degree in 2D Art studies at Eastern Illinois University, and her Masters of Fine Arts Degree at Bowling Green State University. She is currently an Adjunct Professor within the School of Art at Bowling Green State University.
The Marian Treger Fellowship for Enduring Creativity provides a fully-funded two-week VCCA residency with $400 stipend. Currently accepting applications for Fall 2023, the award is open to female-identifying fiction writers, screenwriters, and visual artists, emerging in mid-life and beyond, whose creative paths may have been detoured or hindered by chronic health conditions or disabilities. The VCCA residency at Mt. San Angelo includes a private bedroom with en-suite bath, a private studio, and three meals a day in a community of cross-disciplinary artists.
Named for writer, screenwriter, and visual artist Marian Treger whose profound health challenges interfered with her ability to fully immerse herself in the creative world, this fellowship was created by Treger's lifelong friends in honor of her unstoppable multifaceted creativity. You can learn more about Marian Treger and donate to the fellowship fund at vcca.com/marian-treger.
"Hearing about Marian Treger from her friends and family, she was a truly remarkable woman — one who continued to pursue her dreams and passions and didn't let her illnesses define her," says Hutchens. "She is an inspiration, and I am honored to receive a fellowship in her name."
All images courtesy of the artist.