About this Fellowship
Established in 2022 by VCCA Fellow Sandell Morse, The Spiral Shell Fellowship supports writers attending VCCA's residency program at the Moulin à Nef in Auvillar, France (open only to VCCA Fellows who have already had a residency in Virginia).
Application Details
Eligibility: Writers who are VCCA Fellows
Residencies Available: March – November 2024
Length of Fellowship: Two weeks
Application Opens: June 1, 2023
Application Deadline: September 15, 2023
Application Fee*: $30
Notification by: December 15, 2023
To be considered for The Spiral Shell Fellowship, complete the "Application for Moulin à Nef Residencies, VCCA in France 2024," selecting your fellowship interest in the second question.
* If the application fee presents a significant barrier to application, please write to vcca@vcca.com by September 10, 2023, to request an application fee waiver.
---
About The Spiral Shell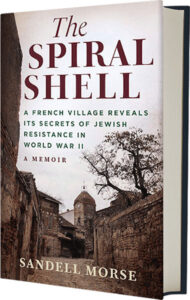 It was at a VCCA residency in Auvillar where Sandell Morse began a complex journey of discovery that led to her recent memoir The Spiral Shell, A French Village Reveals its Secrets of Jewish Resistance in World War II  (Schaffner Press, 2020).
"Without VCCA, there would be no book," says Morse. "It gives me great pleasure to give back to an organization that has given so much to me and to be able to help other writers."
Morse is a VCCA Fellow who served for many years on the Board of Directors of both VCCA and VCCA Abroad. Her nonfiction has been noted in Best American Essays and published in Creative Nonfiction, Ploughshares, the New England Review, and Brevity among others.