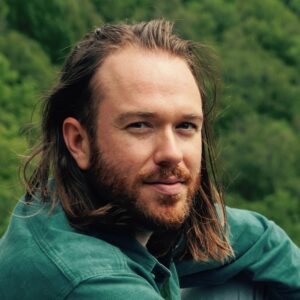 The Virginia Center for the Creative Arts (VCCA) is pleased to welcome Maxim Loskutoff as a 2021 Montana Fellow this November. Initiated in 2005 and funded by the L.E.A.W. Family Foundation, VCCA's Montana Fellowship supports writers, visual artists, and composers living in Montana with a fully-funded one-month residency at Mt. San Angelo in Virginia.
Raised in small towns in the west, Maxim Loskutoff is the critically acclaimed author of Ruthie Fear and Come West and See, an NPR and Amazon Best Book of 2018, a New York Times Editor's Pick, and winner of the High Plains Book Award.
His stories and essays have appeared in numerous periodicals, including the New York Times, Chicago Tribune, Ploughshares, and the Southern Review. He lives in the Rocky Mountains of western Montana.
While in residence at VCCA, Loskutoff plans to work on a novel called Old King, which revolves around the Unabomber's time in Montana.
---
The mission of the Virginia Center for the Creative Arts (VCCA) is to provide time and space for national and international writers, visual artists, and composers of talent and promise to bring forth their finest works, because the arts are vital, diversity is a strength, and creativity is essential. The artists who come to VCCA, whether emerging or established, are selected by peer review on the basis of the important or innovative work they are doing in their respective fields.
In residence, VCCA Fellows are provided with an individual studio, a private bedroom with en-suite bath, and three meals a day in a community of cross-disciplinary artists. Life at VCCA is free of many of the distractions we find in everyday life. Artists are granted solitary time to focus on their art, and are also part of a collaborative community of accomplished artists that provides insights, new ideas, and stimulating conversation. VCCA Fellows are free to work at their own pace in quiet, spacious, light-filled studios, just a short walk from their residence overlooking the beautiful Blue Ridge Mountains.